The rising demand for mobile devices and the advent of cross-platform applications will continue to help the mobile application market prosper. With the 'new normal' around, to do things on the phone is much safer, besides the need of the hour. Most of the sectors are using mobile devices to enhance productivity, mobility, safety, and improved customer service. This further increases the need for mobile devices, and they are not creating the need but constantly boosting the growth of the mobile application development platform market. Organizations often go for third-party developers as the development of the mobile application is an advanced process that demands a high level of technical expertise for its development. US consumers are using their mobile devices more than watching TV, with smartphone use dominating that time. We saw the trend last year for the first time and expected a difference of over 20 minutes between a Smartphone and TV usage (as per eMarketer, April 2019)
As per the Mobile App Development Market Research Report, globally, the Mobile App Development market's market is expected to grow at a rate of more than ~14% from 2016 to 2022.
Apart from such essential functions, the apps are used for booking airline tickets, ordering food, calling a cab, streaming contents, keeping track of calories burned, connected to wearables that further perform a host of different functions. This market will only continue to grow as we keep doing things on our phones. It is expected that in 2020 this industry will generate over 180 billion USD.
The global mobile application development platform market is segmented based on deployment, application, and vertical. The deployment part includes cloud and on-premises. Database and cloud security, email security, network security, web security, and others form the application segment. By vertical, the market includes BFSI, education, healthcare, manufacturing, media and entertainment, retail, telecom and IT, travel and hospitality, transportation and logistics, and others.
Ten years before, the iPhone App Store was launched, and followed shortly by the Google Play store (which was called the Android Market). If we've come this far in a decade, what will be the future of apps?
Smartphones and apps have become absolute essentials for most consumers and businesses.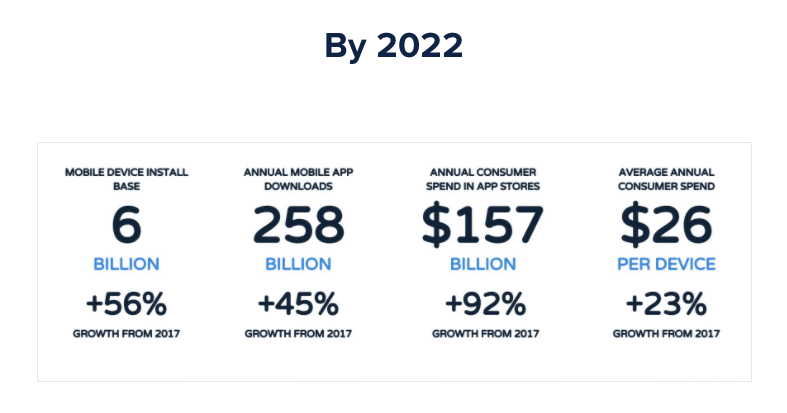 The COVID-19 pandemic has changed the life of every country and nearly every individual. As we continue to track the coronavirus's impact across key industries and markets, one central thread emerges: people are leaning on mobile, now more than ever, during this difficult time. Google Play downloads grew 10% year over year to 25 billion, while iOS downloads increased 20% year over year to nearly 10 billion new downloads. Consumer spend on iOS grew 15% year over year to $17 billion in Q2 2020 and 25% year over year on Google Play to $10 billion.
Let's see some of the data by App Annie, describing the pandemic quarter in detail.
The Coronavirus pandemic has caused seismic shifts in the way consumers and businesses interact. With the average user now spending 4 hours and 20 minutes per day on smartphones, winning the mobile is far more crucial than before. While the timeline for a full "return to normal" is still unclear, app developers from all sectors will need to focus on how they can leverage and adopt mobile technology to create personalized and engaging customer experiences.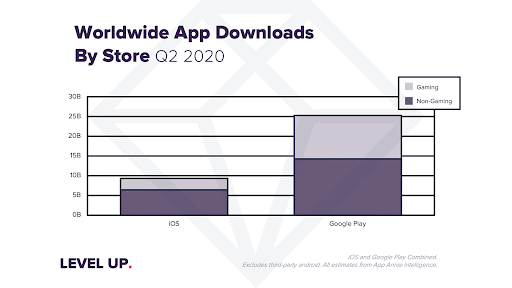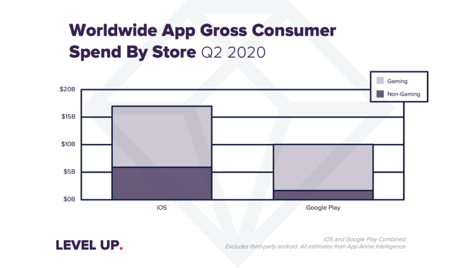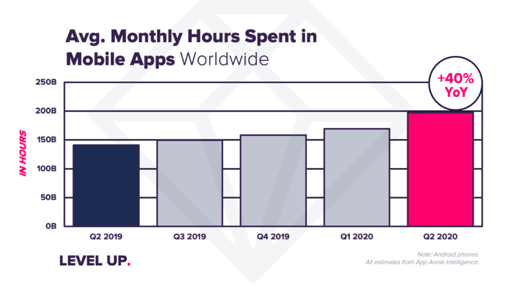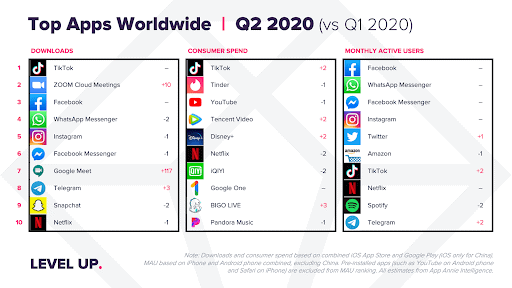 Mobile is a reflection of our lives, and it is helping us get through the day, and connecting us to other people and the world at large. It allows us to get the information and services we need in stressful times right at our fingertips. It is up to us to consider it as a distraction or a source of entertainment or knowledge on how to do our part and stay healthy, informed global citizens.
Considering the usage of the apps have increased threefold during the pandemic, we will continue to see growth in the apps used for ordering food, streaming contents, keeping track of calories burned and meditation, connected to wearables that further perform a host of different functions, dating, virtual money, education, games, and others.
Some exciting development trends to watch out for are:
1. Paying attention to foldable
Foldable devices are going to be big this year, therefore make sure that your app has full functionality on these phones. Foldables have an advantage in terms of their size. They can be folded or expanded; giving users the scope to focus on more details and have a larger workspace. They can even use multiple applications more realistically. It would make sense to stay ahead of the curve and ensure that your app works well on these devices.
2. The use of Artificial Intelligence
The use of machine learning and artificial intelligence will be significant. It is believed that the machine learning industry will be worth about 9 billion USD by the end of 2022. This shows how much potential there is there in the market of AI. As more and more processes get automated, with them becoming more machine intensive, the use of AI and machine learning has been growing day by day. Chatbots are an excellent example of the use of AI. They are increasingly used on retail websites to help customers.
3. Focus on making apps compatible with wearables
The wearables market is growing at a faster rate in recent years. They are used for various reasons and by an ever-increasing number of people. The purposes vary from measuring footsteps to calories burned, to answering calls, and so on. The number of wearable devices is expected to be about 921 million in 2021, which is a vast number of people. Wearables also have an increased significance in the market which has caught the attention of the fashion industry as well. The year 2020 may see more stylish wearable options in the market.
4. Putting Virtual Reality as well as Augmented Reality to use
Another buzzword is development in the market. The usage of Virtual reality and augmented reality is also increasing to a significant extent. They draw the customer in, both literally and figuratively. The market for these technologies is expected to cross the 200 billion USD mark in 2022, which goes on to show that now is a great time to invest in getting your app up to speed in this respect. 
5. The increasing use of digital payment wallets
The transaction value of digital payment wallets is expected to reach about 14,000 billion USD by 2022, which shows the importance of digital payment wallets. The ease provided by mobile wallets cannot be measured in terms of the benefits it has. It helps people to perform transactions cash-free and their online transactions very smoothly. It has dramatically encouraged online shopping and is expected to keep growing.
6. Increased demand for on-demand applications
 The on-demand applications are expected to rake in a revenue of about USD 335 billion by 2025, which is a significant increase from about five years ago. The growth is remarkable. On-demand apps can be used in the form of apps offering taxi service, ordering food, clothes, and so many other goods/services. People can order anything they need by sitting at their respective homes, without having to stand in queues. It makes things genuinely convenient.
7. Boost in the use of cloud storage
The cloud services are expected to come up to an amount of about USD 266 billion in 2020. The use of cloud storage makes it easier to access documents using several devices and makes it possible to keep a large amount of data stored on mobile devices. There are many affordable options available. It also makes it convenient for data to be shared and is just a great option overall.
8. The arrival of 5G
The arrival of 5G will shake things up. It is said that 5G will be about 100 times faster than 4G. Apart from increased speed, it will also offer other benefits such as better data protection, more practical use of massive technologies such as virtual/augmented reality, and take gaming to a whole new level. This makes it essential for app developers to ensure that their apps are equipped to make the most of this technology.
9. Use of Beacon Technology and IoT integration
Beacon technology is going to be used in a significant way, especially in collaboration with IoT (Internet of things). Together they provide substantial and much-needed services to several sectors such as Healthcare, Hotels, and so on. This technology makes it much easier for businesses and consumers to interact more realistically and efficiently. Further, the number of IoT devices is expected to grow to about 20 billion. There is a lot of scope for further use of these technologies.
10. App Security Developments and Enhancements
Global companies are looking forward to controlling the incidences of hacking as it soils their reputation. App developers are boosting the security feature and will be working on fixing any loopholes. With more startups venturing, it is expected to see a lot of changes in security aspects. Engagement is the key, and the firms are competing to outsmart each other with innovative chatbot applications, which need heavy monitoring.
Building a mobile app is of top priority, and it is difficult to choose a development approach as the lines between the various options are becoming increasingly blurred. We have discussed in our blog on 'Flutter or React Native For Your Next Business Application' and dive deeper into Mobile App Development and the benefits of choosing the right development approach.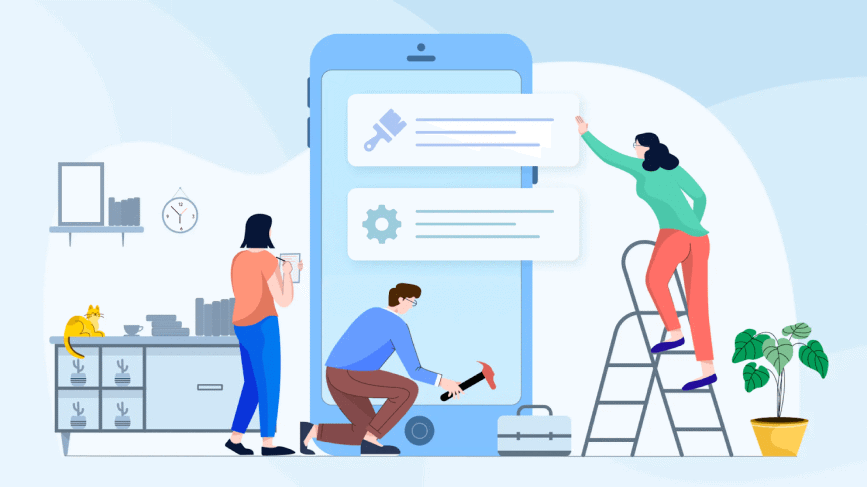 Now you know which trends are likely to show up in a big way this year. This year we will see apps becoming better integrated with our everyday lives and new software as well as hardware changes coming our way. You can also explore more insights by searching in Google and implementing the learnings that you have acquired. Also, if you want to improve your company's ROI to a significant extent, then using these mobile app development ideas will be helpful to you. Make sure that you are going through the points mentioned above and integrate it when developing a mobile app.
Our mobile actions for the weeks and months to come are highly valuable. The fact that the countries and businesses are taking precautionary measures to flatten the curve of COVID-19, staying home is a new normal. Mobile Ads expenditure will continue to rise more than ever, to have an engaging app with the right set of user experience and content is non-negotiable.
A dedicated team of mobile app developers will save considerably on time and money. With the knowledge and expertise they will bring on the table, you can rest assured that the application thus developed will yield a higher return on investment, besides engagement. Saffron Tech's mobile app development service will guarantee you this and more. Check out our services today!

Subscribe to Saffron Tech
Explore your marketing zen with our newsletter! Subscribe now.