"You never change things by fighting the existing reality.
To change something, build a new model that makes the existing model obsolete."
― Buckminster Fuller
Companies around the globe are enduring the most critical economic downturn since the Great Depression of the 1930s. CTO's and stakeholders are making more significant cuts to tech budgets than they have ever done in the past. But not all enterprises encounter the same desperate forecasts. Many are facing the hurdle of cutting in some operations but protecting or expanding in others. And some are even increasing their tech budget because of the demands and expectations.
Many tech companies are pushing to take benefits of the global shifting frequently to digital as a result of the COVID-19. A robust tech budgeting will help you plan the framework for the success for the future. Using the right IT solutions can help you:
Expedite your enterprise growth

Enhance your operational effectiveness

Guarantee optimal productivity from your employees and, in many cases, stakeholders too.

Master operational hurdles

Accelerate collaboration and interaction, thus constructive communication

And, most importantly, stay shielded!
The burgeoning demand for remote communications amid the coronavirus pandemic has highlighted a call for 5G technology, which looks like it will see the mass adoption soon in the future. The technical supremacy of the new standard empowers physicians to diagnose, treat, and operate on patients without being in contact or, in most cases, even around them.
Many businesses have expanded their dependence on enterprise teleconferencing tools — such as Microsoft Teams, Google Hangouts, and Zoom — as their employees shift to remote operations due to the pandemic. We anticipate that employers' dependence on such tools during the coronavirus will reinforce the status for 5G connectivity in the home — and in the office, as companies acknowledge the value that teleconferencing tools contribute.
Companies have already identified VR as a tool to enhance employee training, but the pandemic could confirm to be the impetus for some workplaces to execute the technology. According to a Perkins Coie survey, almost half (49%) of business respondents are looking to use VR and other extended reality tools to mirror real-world training conditions. If kept at home, employees can grip their skills sharp with hands-on tutorials, which earlier may have only been accessible in a workplace environment. For instance, a technician can practice fixing specialized devices without leaving their residence. Additionally, a more comprehensive range of meetings can be held remotely through VR, as workers can better view and share complex ideas like prototype designs.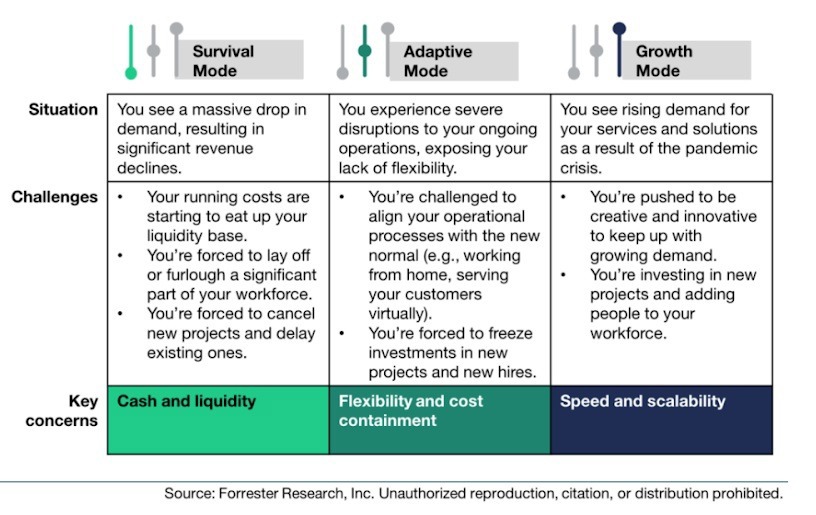 When your Tech budget is aligned with the plans and actions that drive your business ahead, you're in the transcendent state for growth — your employees have what they require to reach your goals and can count to new possibilities without owning to deal with IT-related acceleration shocks and speed bumps.
The key is revenue and productivity while defining your IT, but the human factor is equally important now, as more and more people are going to work from home. Take it into account these 12 FAQs to figure out if your Tech Budget is aligned with your goals.
1. Have you updated your Tech roadmap for 2020?
Aligning your plan with your business strategy to ensure your budget accurately reflects your business priorities.
2. Are you aware of new technology trends to leverage?
Research options and their cost of ownership, paying particular attention to your own industry.
3. Where is your current technology in its lifecycle?
Understand which assets need updating, upgrading, or migrating, and which you can retire.
4. Do you have older, legacy, or manual systems that may hold you back in 2020?
If you're hanging onto outdated systems, it is time to budget to start the transition.
5. What is the actual cost of moving to the cloud?
Include the cost of migrating, integrating, and managing new technology, including the needed internet capacity and redundancy.
6. What is your plan for dealing with the tech-talent shortage?
Confirm Tech talents salaries are competitive, consider performance-based bonuses, and look at outsourcing for responsibilities that aren't unique to your business.
7. Are you using the right set of tools?
The right set of tech tools support your workforce to be more efficient and productive, shield your data and systems, counter back quickly to opportunities and threats, and render a more delightful work experience.
8. When was the last time you monitored your ROI?
Do your analysis based on revenue, profit, and client acquisition potential, gain your conclusions from there, and stay focused on your investment return on investment
9. Is your Disaster Recovery (DR) program ransomware-resistant?
Ransomware aims at both backup data and production data — budget to maintain backups offline.
10. Have you done your Tech risk assessment?
Understand the most prominent threats to your Tech environment and budget to resolve them in 2021.
11. Do you have a Tech adviser to help you make cybersecurity plans and actions?
If you don't have a security expert in your team, turn to a trusted partner or find a qualified consultant. Outsourcing the entire Tech department helps to monitor such challenges easily.
12. What technology do you need to channelize your growth projections?
Determine the IT services, skills, technology resources, and tools your Tech team requires to manage your responsibilities and help accelerate your 2021 goals.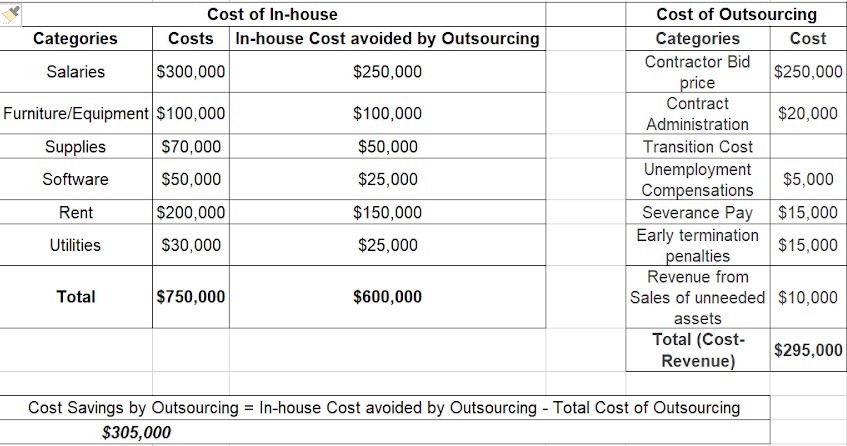 Rough Estimation of Outsourcing Cost and Savings
Tech outsourcing options range from value-added resellers (VARs) to managed IT service providers (MSPs) to something in between. At Saffron Tech, we start with the right participants at the right time. It includes frequent communication about initiatives between participants and the Tech team. Further to that, we are involved in a robust tech and business strategic alignment session, giving ample time to figure out the complete and accurate pricing of the tech services. Once planned, we prioritize initiatives based on business-based needs, risk assessments, goals and growth projections and value propositions. The tech budget for the year with relevant breakups is thus prepared for the client.
With remote work spearheading the future, we will be spending more money on contactless devices and technology.
You can reach out to Saffron Tech to help you define and plan actionable goals, cost-friendly budgeting, and effective and efficient services with continuous support to achieve them in the required time. At Saffron Tech, our team works on a review mechanism where we conceptualize a strategic approach to your organization's future marked with growth and revenue.
Subscribe to Saffron Tech
Explore your marketing zen with our newsletter! Subscribe now.