With increasing digitalization in the healthcare sector, it has now become imperative for businesses to cater to their services online. The pandemic has altered the course of healthcare solutions from core medical perspective to the adoption of technology in the segment. 
Several apps are budding in the domain, and it is the best time to harness the power of mobile health technology. So, if you are looking to invest in a new business idea, developing a healthcare app can prove to be a fruitful investment. According to Statista, the global digital health market is expected to grow to become a $500 billion industry by 2025.
Firstly, you would need to select a type of healthcare application and then work towards building one that is robust and provides a seamless user experience. To help you out with your selection, we have curated a list of types of healthcare applications that are trending at the moment. Let's have a look.
Emergency applications
These types of applications are not precisely engagement-based and are used in cases of emergencies. For instance, if you don't get a very good feeling about your health and are about to collapse, merely pressing your home button thrice will dial the emergency services and provide them with a live location to come to rescue you.
These apps may also include a map showcasing nearest clinics or hospitals to help the user in locating them faster.
Medicine trackers or reminder applications
These types of applications are similar to the reminder function in our mobile phones but work a little differently.
These applications not only send you reminders to take medicine, but you can also fill in your pill details to get a reminder whenever you need a refill. They may also have an eCommerce partner to set up and automated system of delivery.
Lifestyle and health applications
These applications are basically information hubs that help users find informational articles or news to help them learn about maintaining healthy lifestyles.
They may also include various features aimed at helping the user maintain their fitness goals, eating a healthy diet and such.
Electronic health records applications
These applications store each piece of data concerning a patient's disease, including all medical records, diet, healthcare provider, and such. They come in handy in times of emergencies, and you don't have to worry about carrying your records whenever you go for an appointment.
Now, let's move on to the development stage.
Know your target group
Once you are through with the ideation, the next step in line is to know everything you can about your target audience. Understanding their needs and keeping tabs on their complaints from your competitors is the essence of building a robust application. Your target group may vary depending upon the type of application you choose, but it is essential you recognize all potential users and then create a framework in line with their needs.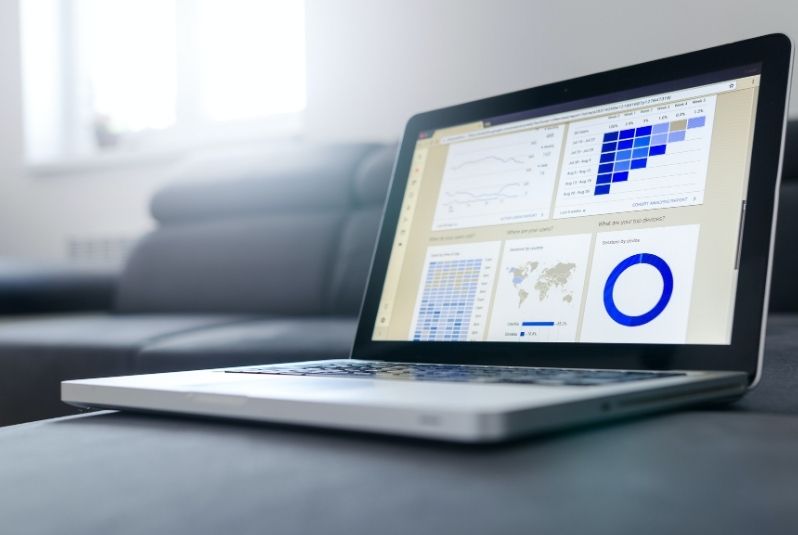 Unsplash
Analyze market and competition
The second step in the development process includes thorough research about the market and competition. Suppose you are looking to develop an app whose concept is already prevalent in the market. In that case, you must know all the factors that influence your domain and the most significant factor to consider is the competition. You need to start by analyzing the major players in the segment and work your way down to budding applications. This will not only help you develop unique features but also help you in determining your course. However, if you have a unique idea, you need to analyze the closely related markets and understand the need for your idea. This will help you with developing your service in line with already existing services.
Determine the features of your app in line with the UX/UI
Every application thrives on the experience it provides to its users and the efficiency of the services it offers. And this is why you need to determine the features you are going to provide and work the feasibility out with the developers so as the user experience and interface are not hampered in any way. You need to ensure that your app runs smoothly across all devices and all your features are easily accessible. Another thing you need to keep in mind while developing a healthcare application is that you need to keep your content as user-friendly as possible as not every user out there is going to be literate enough to understand medical jargon. Being inclusive of all is the key to a successful application.
Configuration and accuracy
Since a healthcare app would require more data than a general app, try and make the configuration process as simple and inclusive as possible. If you have exceptional features that are only compliant with advanced smartphones, you will not be able to maintain the inclusivity. You also need to make sure that all the information and services are accurately delivered to your audience, and they are not misguided in any way possible. It is also essential to keep updating your app as there is an imperative need to quick bug fixing if you wish to scale your application.
Ensure security
Security is CRITICAL for healthcare applications as there will be stores of incredibly vulnerable data of your users, and even a single breach can be the end of it all for you. The advancement in technology has brought us numerous opportunities but also some significant threats. There are cybercriminals out there continually looking to hack into applications and systems to exploit them for their benefit, and you need to ensure that you don't fall prey to their means. Have a competent privacy policy developed and inform all your users of what information your application takes in from their devices in advance and have them accept the terms to regulate security better.
Run tests
Testing is the most crucial aspect post-development of an application. It provides us with insights into the functioning of our application and bugs that may hinder the experience for a prospective user. It also allows us to make any relevant changes that may enhance the user's experience. So, have your developer run tests once your app is developed.
Now that you are well aware of what it entails to have your healthcare application developed, connect with our seasoned executives to have your dream application developed per your needs. Saffron Tech has been delivering successful healthcare applications for years now and has an extensive experience of over 12 years devising technological solutions for clients in all domains. Get in touch to know more about how we can help you! 
Subscribe to Saffron Tech
Explore your marketing zen with our newsletter! Subscribe now.