People now are running on many schedules in a day, and in times of upgrading technology that aids them in making payment decisions real quick, Tap-And-Go Communication or NFC is a time saver. In simpler terms, NFC (Near Field Communication) uses electromagnetic fields for data transfer and making contactless payments. This approach has led to a transformation in the ways we used to access personal information, data management, and settling amounts over more than one mobile device. 
Smartphones and smartwatches tend to possess this feature where the owner can make a contactless payment with just a tap since their payment modes like credit card and online wallets are synced, making it easier and quicker for them to complete a purchase. For instance, one day you count on a couple of cents to achieve an amount, the next day you only pay at just one touch, NFC feature allows you to leave your home without even a wallet- you can't count the uses, can you! 
Most smart devices already have this NFC built-in feature technology, just like the credit card chip readers that people use and make payments with a tap on the POS machine.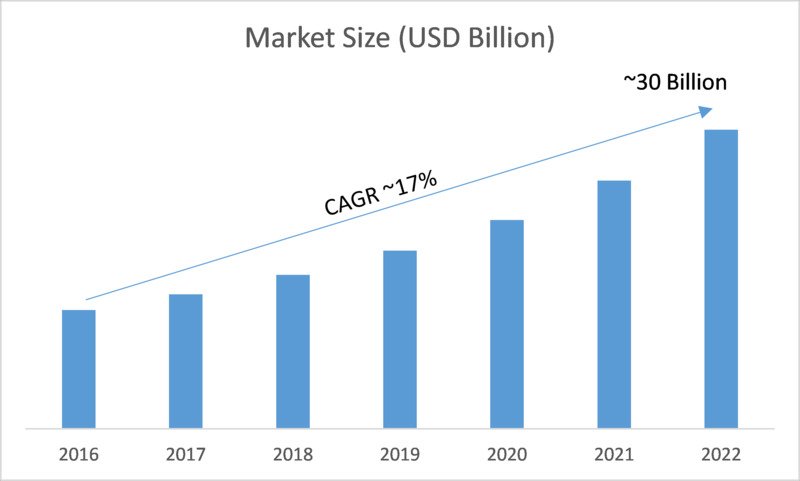 MRFE Analysis
The Tap-And-Go Communication market is expected to reach USD 21.84 Billion by 2020, at a CAGR of 17.1% between 2015 and 2020.
The global Tap-And-Go Communication or NFC market is segmented based on type, device type, and utilization.
By type –

NFC ICs & antennas, NFC tags, and NFC readers. NFC micro SD cards, NFC SIM/UICC cards, and NFC covers.

By device –

smartphones, tablets, laptops & computers, and others.

By utilization –

NFC-based payments, ticketing, booking, data sharing, authentication and access control, healthcare, and games and toys.
Major Players:
NXP Semiconductors (Netherlands), Broadcom Corporation (US), SAMSUNG (South Korea), Intel Corporation (US), Qualcomm Inc. (US), AMS AG (Austria), STMicroelectronics (Switzerland), Texas Instruments Incorporated (US), MStar Semiconductor, Inc. (Taiwan), Flomio, Inc. (US), among others.
Other players in the market include Blue Bite LLC, HID Global Corporation, Cellotape Smart Products, Advanced Card Systems Holdings Limited, Thinfilm, Smartwhere, LLC., SMARTRAC N.V., among others.
How Does Tap-And-Go Communication Work?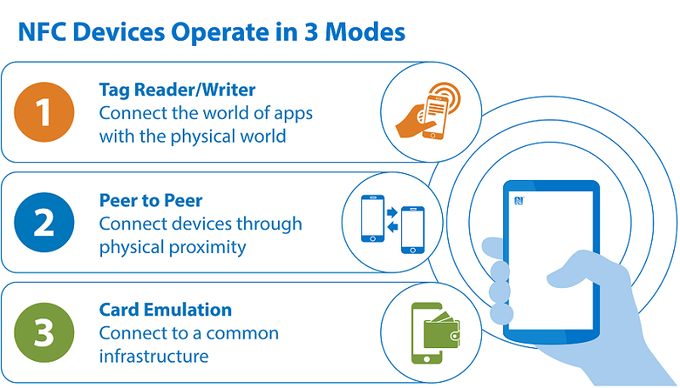 NFC Forum
Tap-And-Go communication feature recognizes the payment terminal and captures payment data sanctioned by the receiving party's bank via radio signals. Instead of inserting a card and being obliged to enter the PIN, you can go ahead with a trouble-free tap. NFC is primarily an add-on to the previously used software RFID or Radio-Frequency Identification Technology. NFC has a better proximity radius and is imperative for enhancing secured payments. 
As a subset of the RFID technology, NFC relies on radio waves/signals and an antenna to complete it. Once you tap an NFC enabled device on a payment terminal, the antenna creates a radio-magnetic message that registered the radio waves coming from the other device. When the path is recorded, the transferred encrypted data can be decoded by the payment terminal to access the user's information. The reader discerns the data, and both the parties can proceed in a secured and successful payment. 
Instead of leaving the card numbers unprotected, Tap-And-Go Communication transforms them into digital tokens that are different from the original digits of the card. Thus, it ensures that the transaction is shared safely via the bank. 
Using NFC software to make a purchase is more comfortable than the orthodox steps of entering a PIN code and saves time for both the retailer and the customer. A few examples of Tap-And-Go communication software are Apple Pay, Google Pay, Samsung Galaxy Pay, etc. Also, on the credit card issuer's part, this software assures that it is used more frequently. 
Application Of Tap-And-Go Communication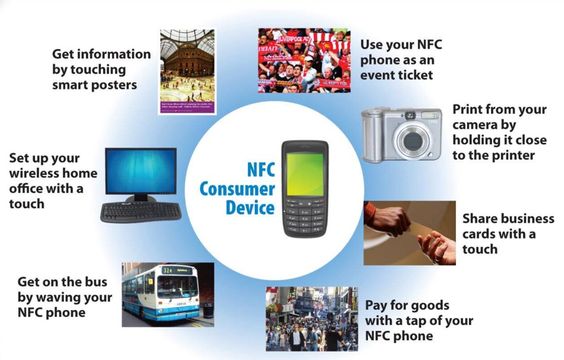 NFC Forum
Using NFC software eradicates the need to carry a physical wallet. The technology helps you access your payment modes at your ease with your smart device, even when you do not carry hard cash. Many software applications are using NFC technology to make things simple and effortless.
Data management and transfer have become an easy job, keeping in mind the two devices are held close while you use the NFC feature to share information. However, this is alone for Android devices since the iOS devices have a different network.
Businesses now prefer contactless payments in times of this pandemic, and research shows that this has been a plus point for additional sales. Small payments for groceries, drugstore, and other things that cost less are frequently sold via contactless payment modes.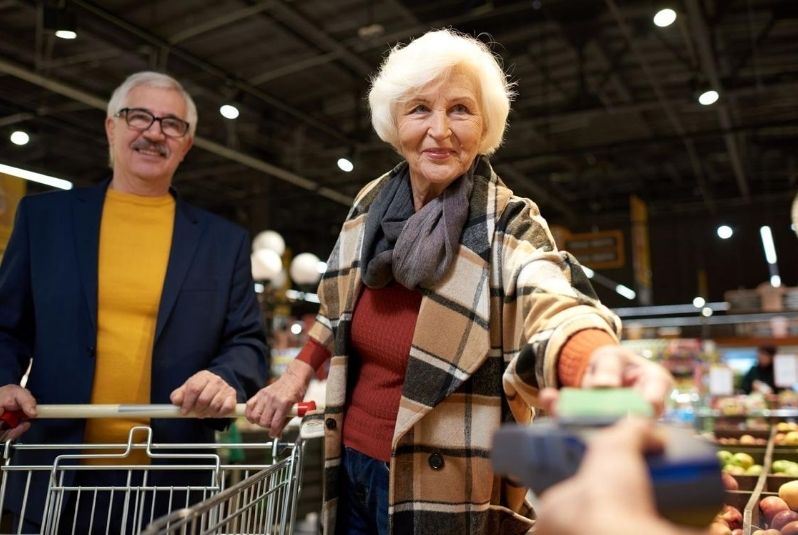 Tap-And-Go communication increases the probability of customer satisfaction as it reduces the transaction time frame and lets the customer focus elsewhere. Studies prove that contactless payments create a higher brand loyalty mindset and prefer staying with the current goods/service provider.
While you use your smart device to initiate a payment, there is no need to take out the card off the wallet, and the technology has made itself so strong that your day to day errands can be completed effortlessly. 
If you are a retailer or a receiving party, having to be equipped with contactless payment modes helps you get away with the additional fee charged on payments. A regular credit card transaction may bring a more substantial dip in your business rather than Tap-And-Go communication. 
Is Your Payment Safe While You Make A Contactless Transaction?
The answer is Yes! NFC payments are completely secured and safe to be chosen over the traditional method of using hard cash or plastic cards. The data transferred during a Tap-And-Go transaction is encrypted so it can not be traced until it is read by the radio magnetic waves of the payment terminal. Every wave is different, so the data keeps changing, making it tough to decrypt. 
Every little transaction is done via banking networks, yours, and the receiving party. Once you initiate a contactless transaction, details are transferred via the issuing bank by generating a token number, totally encrypted. This leads to a series of transfers, and the final payment is made by your phone. 
The Tap-And-Go process involves an authorization chip, which is present in the smart device. The same chip is available in the payment terminal as well, making them sync in a protected course of action. Tamper-proof functionality of the chip reduces the risk of getting attacked by malicious software attacks and acts as a secured element. 
What is the future of Tap-And-Go Communication?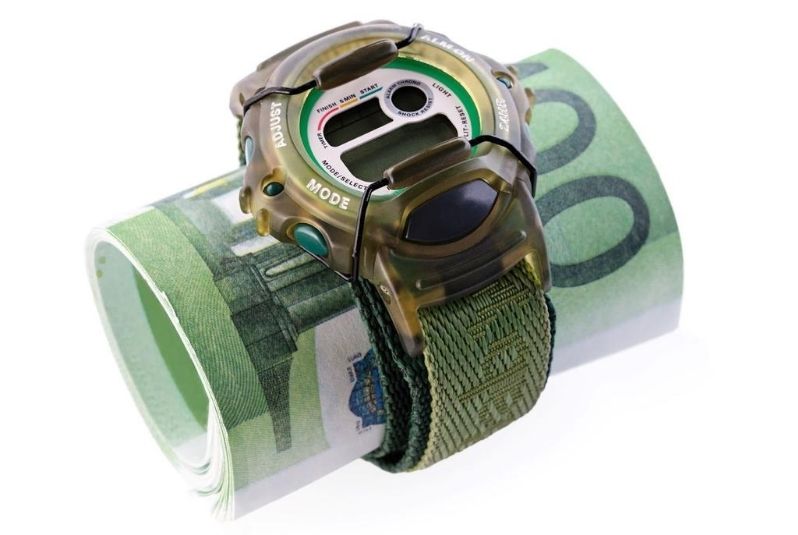 NFC is undoubtedly here to stay. It is instinctive and comfortable to use and is getting integrated everywhere nowadays. The fact that it can replace passwords, it is easier to manage. With the advent of the Coronavirus, contactless payment will be one of the most critical drivers, especially in the retail and hospitality sectors. 
The forecast says by 2021, 40% will consistently use a mobile phone to purchase at a physical point of sale, and we believe the number will be more as nobody anticipated COVID-19, the pandemic of such stature.
The global NFC market is also expected to reach about $49.5 billion by 2025.
With more and more options will be explored, NFC is going more reliable and worthy than ever and allowing our lives to get more comfortable in new ways.
Contactless payments are already a thing in many nations, and with the speedy transaction and secure and effortless payment, customers are open to more integration. Big Brands are already advertising about it and communicating to keep customers updated and informed. It won't be a wrong statement to make that Tap-And-Go Communication is a part of mainstream tech and has already carved a niche in the world.
NFC or Tap-And-Go communications have given an upper hand to people who want to make payments without any hassle. Shortly, technology will make it much simpler for businesses to come in a transaction by incorporating contactless payments into their routine operations. A new world waits for that business that makes payments simple, effortless, yet secured, allowing the customer to move ahead to do the next thing of their day. If you own a new business in the town and accumulate the details of the demographics, you want to contact and attract them with frictionless payment modes. Choosing a quick way to complete a transaction is the first best investment you make for your business.
Subscribe to Saffron Tech
Explore your marketing zen with our newsletter! Subscribe now.