In today's cloud-enabled world, the need for working from within the office building has faded significantly. Cloud-based tech has now become the wind beneath the wings of the application outsourcing segment. 
Application outsourcing in the IT industry involves an elaborate range of operations from application development to legacy system maintenance to software implementation and so much more. Outsourcing your tech needs can not only reduce your burden but also provide complete architectural analysis of your company's applications. With the added pressure of transforming your businesses into a better enterprise has driven CIOs into dynamic markets. What everyone needs is an architecture that is built on a scalable platform with the capability of responding rapidly, and this is where application management outsourcing comes in. It has come as a blessing for today's business community, taking away all their tech woes and giving them scope to climb up the business ladder. 
There are some considerable advantages attached to application outsourcing, let's have a look at a few of them:
Cost control
The idea of having an in-house team might sound attractive to you but, would you be willing to shell your finances on hardware expenses, software licenses, cloud-subscriptions, maintenance costs, salaries, and other support items when you have a lucrative option like outsourcing on the table? 
Cost reduction is the most evident advantage of application outsourcing, from a business perspective. Outsourcing, especially offshore outsourcing, can significantly cut costs in terms of availability of experts. 
According to the Harvard Business Review, you can reduce operational costs by 20-30% by leveraging outsourcing. 
Increased efficiency
Experienced outsourcing vendors can competently deliver solutions to all your complex problems. An in-house team might consist of efficient employees, but outsourcing vendors have specialised teams that enable you to harness the collective technical experience of top-of-the-class technicians. Now, if this will not increase the efficiency and productivity of your business, then what will?
Decreased investment in workforce
With your tech services outsourced, you don't need to invest extensively in training and recruitment of the workforce. Your infrastructure requirements will also be significantly altered because you have a competent outsourcing vendor who will develop it for you. 
Competitive advantage
Today's competitive and demanding world has every business owner on their tip-toes, striving towards greater efficiency and innovation. With a decrease in the drain of internal resources, application outsourcing helps you be in a better position to increase organisational productivity. Through continuous improvements and performance measurements offered by your outsourcing vendor, you can make sure you are keeping ahead of your competitors. 
Improved core functions
With your business application management process secured, you can easily focus on other crucial business tasks like brand building, investing in research and development, strategy development, and such to generate higher value. Application outsourcing also enables you to minimise the time taken by a product/service to hit the market and move at a faster pace. 
Expertise
This is one of the primary reasons why any business would be interested in investing their resources in application outsourcing. These vendors have experts with various specialisations and have the necessary experience to support all your diverse needs. Moreover, the majority of IT application outsourcing vendors offer 24/7 support plans, which is another big plus when compared to an in-house team.  
Enhanced security
If you wish to develop an in-house team, you also need to recruit security personnel to protect your data from increasing cyberattacks. However, outsourcing vendors provide specialised services, including security support against all kinds of digital threats. They also bring to the table their experience in dealing with diverse industries and are better prepared to tackle any incoming attacks.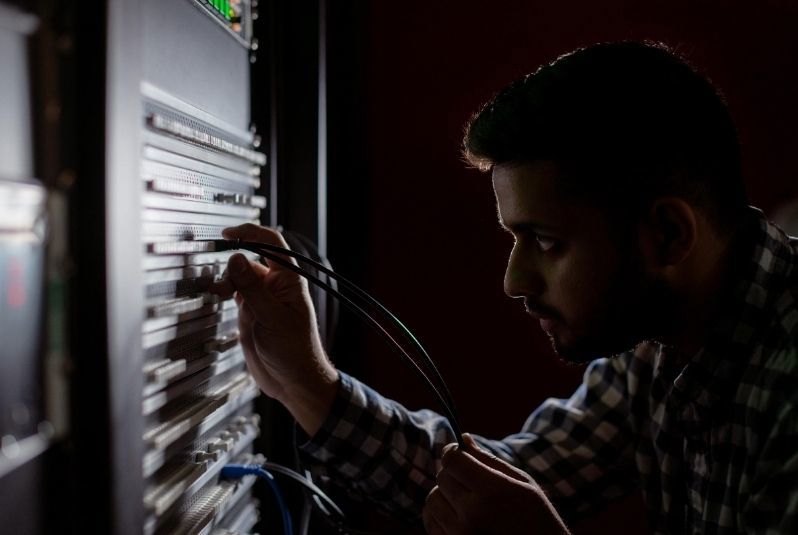 Unsplash
As appealing as it may sound, application management outsourcing can be a tricky slope to drive on. However, it has now become a necessity for those looking to build a competitive enterprise. Businesses all over the world are judged by their performance and quality of services and the same stands for application outsourcing vendors. The question that remains is how you will know if a vendor will be able to deliver services according to the agreed parameters efficiently? 
Well, here are some tips that will help you select an efficient and competent tech partner :
Identify your needs 
Up until a few years ago, outsourcing was only a means to reduce cost but, with the evolution of technology and the rise of the cloud it has become the need of the hour for every business, including yours. The first step into finding the right tech partner is to identify your needs and the benefits that can be gained from having a distributed and flexible application management system. You can start by listing down specifications as to what you want to get built and add additional features you may require, the workflow, integrations, and everything else that you wish to comply with. This will not only help the prospective vendors in understanding your needs but it will also help you in finding relevant vendors who offer the kind of services you require. 
Send out RFPs
If you don't already have a technology partner in mind or you are looking out for more options, it is advisable to create a Request For Proposal(RPF) and send it out to relevant vendors. However, do not forget that the devil is in the details and keep your RFP very precise. 
Five elements that make a competent RFP-
It must include an organizational overview to help the vendor in designing an efficient proposal.
Outline your specifications and deliverables upfront to weed out irrelevant vendors that can cause needless delays.

It is of utmost importance to make them aware of your project goals and what is it that you aim to achieve out of your association.

Request them to share case studies about their past clients with you, this will help you in determining their core skills and competencies. 

Be extremely clear about your budget and expectations, while it isn't necessary to give an exact number, it is encouraged to give them a range to work with. This will help them in allocating resources to your project and give out a better proposal.
Sending out RFPs will not only help save your time but it will also give your vendors a chance to showcase their interest in your projects.
Check for references/testimonials
Once you receive testimonials from your vendors, you will be overwhelmed by their top of the class services. However, it is important to stay diligent and inquire further by requesting them to connect you with some of their clients. If they pass the contact through, you can ask their clients about their performance efficiency, things that went wrong, their style of communication, and anything that you feel is one of your concerns. It is not necessary that they may have worked on a similar project for them, the key idea is to gain insights about them from someone they have worked with first hand. You can also ask their clients about their way of handling things in unfavourable circumstances, not just technically but also interpersonally. 
Review their support model
Tech partners have a range of services and a dedicated team to offer support but it is your responsibility to make sure you are being given the kind of priority you deserve and have paid for. Another important aspect while outsourcing your application management is that you need to check for compliance based on the location of your vendor. Most businesses generally engage in offshore or nearshore outsourcing, which may be problematic in terms of their availability per your business hours. You need to make sure your partner provides you with advice on maximizing your investment like offering custom training, webinars, or events. Make sure you are made aware of their improvement programs by your account manager. It is also imperative to indulge in conversation with your prospective account managers to get a hang of how effectively they communicate and what kind of solutions they have for your needs. 
Communication and transparency
An open line of communication is a must when looking for a competent strategic partner. Communication is a two-way street, you must keep your partner informed about your upcoming projects and changes in your business, and in return, they offer you management solutions best suited for them. Common practices involve both partners scheduling regular meetings to share updates and review operations. The essence here is that you need to be transparent and honest about your goals and resources with your tech partners, this will help them in drafting a clear roadmap of projects packed with milestones for easy review.
Cultural fit
Cultural fit and size of the company you are partnering up with matters a lot when it comes to application management outsourcing. Think of a partner as an extension of your business and something you'll be associated with for a very long time and then try to align their culture and size with your own. It isn't necessary that a small vendor will not be efficient with his performance or a large vendor will be exceptionally good, weigh in their interest in your projects and try to align their culture with yours in terms of the level of formality, documentation procedure, and such. 
Ask for warranty
You may be overthrown by a vendor's confidence in his products and services but that does not translate into a guarantee. Check if your vendor offers warranty clauses for the timely delivery of products or services in line with your budget and assurance on the treatment of defects or glitches that may hamper your business in the future.
However, don't forget to ensure that you have your tech partner's best interests in mind and will work together to grow both of your businesses in line with each other's. Mutual trust is the key to a successful partnership and both parties need to be equally invested in each other. 
Now, with all these tips at your disposal, you are all set to look out for your perfect tech partner. 
Saffron Tech's comprehensive IT consultancy ensures complete reliability and continuity in business growth. We are specialized in every aspect of IT consultancy and maintaining a personal touch with our clients. We have an expert team to assist you with the clouds' system, monitor tasks, and automate them in a secure setting. Reach out to help you to accelerate your Tech needs.
Subscribe to Saffron Tech
Explore your marketing zen with our newsletter! Subscribe now.