The overall SaaS market is growing at a phenomenal pace. Today, businesses across the world demand SaaS solutions that can regulate their business functions. Popular SaaS products involve customer resource management or CRM solutions, enterprise resource planning, eCommerce, web hosting, etc.
According to Statista, the software as a service (SaaS) market was expected to reach $145.5 billion. Countries like the United States of America and the United Kingdom are the leading countries with the highest SaaS licensing companies. USA has more than 15,000 SaaS companies whereas the UK has 2000 SaaS companies. Hence, it is quite common to witness new SaaS and software startups. The tech industry is booming with new companies.
Source: Unsplash
According to the statistics published on Bloomberg, the SaaS market size is expected to expand at a CAGR of 9% during 2019-23, the net worth of the SaaS industry will be +$60.36 billion. The rise of SaaS and Software startups have created a diversified supply of SaaS and software product. You might be surprised to know that few of the digital products you use daily might be based on SaaS.
Some remarkably resilient SaaS products in the market offer robust solutions. However, like any other industry, the SaaS industry also faces some turbulence in terms of competition. To become a top SaaS company, startups need to work hard and focus on innovating tactical solutions. We have laid down some of the proven strategies based on the latest SaaS trends that can help your SaaS company grow.
1. Better Customer Support Leads To Better Market Penetration
Maintaining constant customer support can play a crucial role in helping your SaaS and software startup survive in a competitive space. How? Imagine getting an in-house team or an external team for customer support. You will be able to nurture client relationships for a long time. It can be a very fruitful investment! You can make your customer services more approachable. 
This recommendation suits B2B businesses that want to acquire diverse clients from different countries or industries. Don't just focus on selling your product; concentrate on enhancing your services. Today, several SaaS companies also use SaaS help desk technologies that help them manage their inquiries efficiently. Such software can also help you in curating assessment reports, email integration, etc. You can also employ good product management software that can help your SaaS team lead an end-to-end workflow.
Source: Unsplash
2. Let Your Customers Market Your SaaS Product 
How can your customers market or promote your SaaS product? Through referral marketing! It can drive new customers to your product. Referral marketing is one of the most effective forms of marketing. It works pretty well for SaaS And Software startups. Many leading SaaS companies had also adopted this marketing technique, and now they've become a billion-dollar business.
One of the top SaaS providers once provided a massive amount of extra storage to new customers referred by their friends or acquaintances. A few SaaS businesses don't even ask their customers to refer the product to their friends; sometimes, the offer is so lucrative that nobody can say no to it.
3. Establish Your Exclusiveness To Attract New Audiences
Customers strive to get exclusivity! An exclusive offer, product, or deal makes them feel unique; they love the exclusive culture! It is pretty usual for human beings to get attracted to things that are out of reach of the common audience. Your company can establish its exclusive features or key specialties that make your brand different from hundred others. For instance, Linkedin, which is a social networking platform, calls itself to be the world's most extensive professional network. Hence, they establish their exclusivity.
4. Utilize The Power Of Content Marketing 
Today, almost business that exists over the internet is aware of content marketing. High-quality content can help your brand stand out from the crowd. If your content is highly relevant, it can help you churn out an astounding amount of traffic. Today, content marketers provide visually appealing infographics, pie charts, etc. 
Your company can publish research-based case reports, case studies, infographics, social media content, etc. However, creating content is not an easy task; you need to be accurate and consistent with your content. If you even want to grow your blogs, you need to have a robust keyword strategy, format, optimization, etc., to influence the audiences.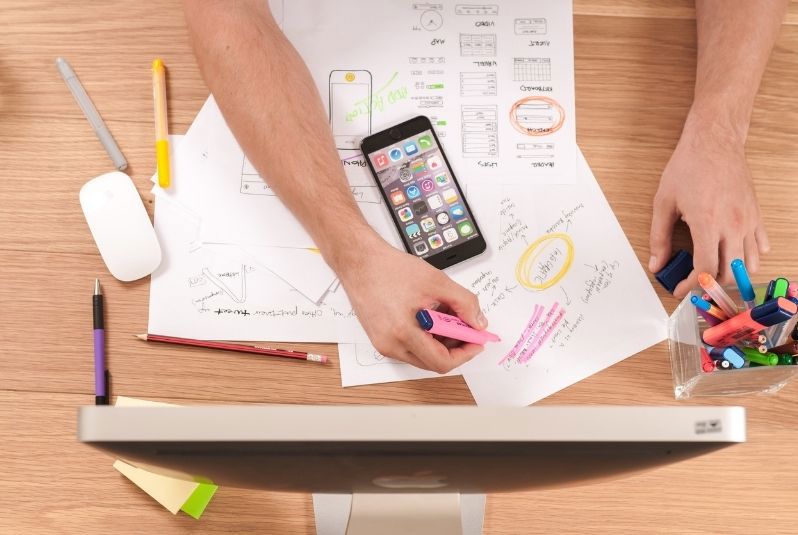 Source: Unsplash
5. Offer Free Product Trials To Capture Attention! 
Customers, in general, tend to try a product before buying it. When you offer free trials, they can test the product, know its features and make up their mind to purchase it. Free trials are also an excellent marketing method of lead generation. It can help your SaaS startup grow massively. Hence, you can offer a free trial of your product through your website. If you haven't tried that, you must consider doing it. 
When your customers get a free trial, they can easily experience the product and know its features. It's better than posting a blog or a sales rep explaining the features of your product. To boost customer engagement to the next level, you can offer in-house support to help your prospects use the product. When they get firsthand hands-on experience, they prioritize your business over your competitors. Therefore, prospects who signup for your trial has a higher chance of getting converted into high-value customers. They might be the customers who would end up buying your product.
6. Try Re-Engagement Marketing Techniques
Several SaaS and software startups just focus on closing the deal. However, they often underestimate the importance of re-engaging their prospects. These prospects might have shown interest in their product; a SaaS or software strap can utilize re-engagement tactics to convert them into customers. Don't see these prospects as lost leads; see them as your potential buyers. Chances are very high that they dramatically increase your conversions. It can help your company grow. You must have seen an eCommerce website retargeting you on a social media platform or a different website. It is done to convince you or to encourage you to make the purchase. Re-engagement strategies can compel your prospects to take a second look at your product.
7. Does Your Company Offer Freemiums?

Providing a freemium model to your customers can prove out to be an effective strategy for boosting your SaaS and software startup's growth. In the beginning, you can offer some essential services to your prospects for free. For unlocking more advanced features, you can ask them to pay for your subscription. Freemium models are usually used by businesses to show their product's value addition. Many prospects might not need the advanced features; that's when your basic plan can keep them engaged. Once they need to scale up, they'll be readily available for conversion. Hence, offering basic services for free can help you generate tons of traction.
Conclusion
We have mentioned some of the most actionable strategies that can help your SaaS and software startup grow. These strategies are simple! However, they require a lot of attention to detail and knowledge. Saffron Tech is a robust SaaS solution provider that can help you with the best solutions. Do you want to make your SaaS startup a success? Contact us to know more!
Subscribe to Saffron Tech
Explore your marketing zen with our newsletter! Subscribe now.