Mobile users prefer an immersive app experience rather than visiting a mobile website through a browser; statistics prove that.
Following the trend, the mobile app market is predicted to surpass $189 Billion in revenues by 2020. And there are already more than 5 million mobile apps on Google Play Store and Apple App Store trying to capitalize on the trend.
Businesses, big and small, have realised the power of mobile apps and the impressive engagement rates they offer and are trying to monetize their businesses by marketing heavily through them.
With the rise in popularity of mobile apps and every business trying to get their hands on one, the limelight is on cross-platform mobile app development tools like Xamarin.
In our previous blog, we talked about why cross-platform mobile app development tools like Xamarin have the edge over native iOS, Android and Windows mobile app development tools like Objective-C, Swift or JavaScript.
Diving further, in this blog we will be talking about where to hire proficient Xamarin developers from and how to make sure the Xamarin developer that you choose to trust with the responsibility of building your mobile app is worth your time and money.

From where do I hire a Xamarin Developer in India?

There are many different ways you can pursue to hire a Xamarin developer for your project. You can choose to hire a developer or a full team of developers in-house, hire a professional Xamarin development agency or hire freelancers.

Hiring in-house Xamarin developers

Hiring a developer or a fully fledged in-house team of Xamarin developers is an extremely vital and lengthy process. While hiring, you'll have to make sure that your potential Xamarin developer is capable of delivering a seamless app that runs smoothly on all the major platforms. To be sure of that, you need to know first what kind of skills are a must have for your Xamarin mobile app developer that can deliver the same.

To help you out, look out for these skills and attributes in your potential Xamarin hire –
C# and ASP.NET skillset
The programming language that Xamarin works on is C# so it's a no-brainer that your potential Xamarin hire must be highly versed in that language. His proficiency in the language will be directly related to the overall performance of your mobile app.
Also, cross-platform app development tools like Xamarin work on MVVM model (where designers and developers work collaboratively on a project), so a deep understanding of such software patterns is also vital for a good Xamarin developer.
Furthermore, you can check the familiarity of your potential Xamarin hire with specific .NET techniques like C# classes, methods, properties, lambdas, asynchronization, etc.
Visual Studio proficiency
Xamarin facilitates the development of mobile apps using Visual Studio development environment.
Similarly, your potential Xamarin hire must be proficient in development, debugging and deployment of mobile apps using Visual Studio for WIndows or Mac.
Code Reusability know-how
Yes, with Xamarin the same C# code is utilized for developing iOS, Android & Windows apps but only 90% of the code can be reused. To deliver a truly native feel, your potential Xamarin hire must be well aware of platform-specific SDKs and APIs and how to effectively use them to give a platform-specific native feel.
Previous Work portfolio & Self-help
By looking at previous work projects and apps of your potential hire you can get an idea of what kind of work he has done in the past and how well he has done it. Also, ask him how he overcomes regular coding obstacles and the resources he uses to do the same.
Constant growth and learning is important in the app development industry and your next hire must stay on top of all the latest app development trends and techniques.
To better access the capabilities of your potential hire during an interview, you can have a look at this extensive list of C# questions and answers.
Hiring a Xamarin Development agency

Hire a Xamarin Development agency, like us, if you are looking to create an enterprise app that is high on performance, security and features. Also, when you hire an agency that specializes in this work, you get the best that there is out there and they will make sure that your app works perfectly and that all your design and feature requirements are fulfilled.
But you'll have to careful as not all agencies deliver on what they promise. Run a background check on your preferred agency to make sure they can walk their talk. Check if they have a Microsoft Gold Certification, use the mobile apps they have built in the past to get a jist of their work and have a look at the professional credentials of their development team to get an idea of their professionalism and work ethics.
Hiring Freelancers
Hiring freelancers works best when you are on a limited budget and want a highly specialized app. Keeping that in mind, let's look at some famous freelance portals to hire professional Xamarin mobile app developers –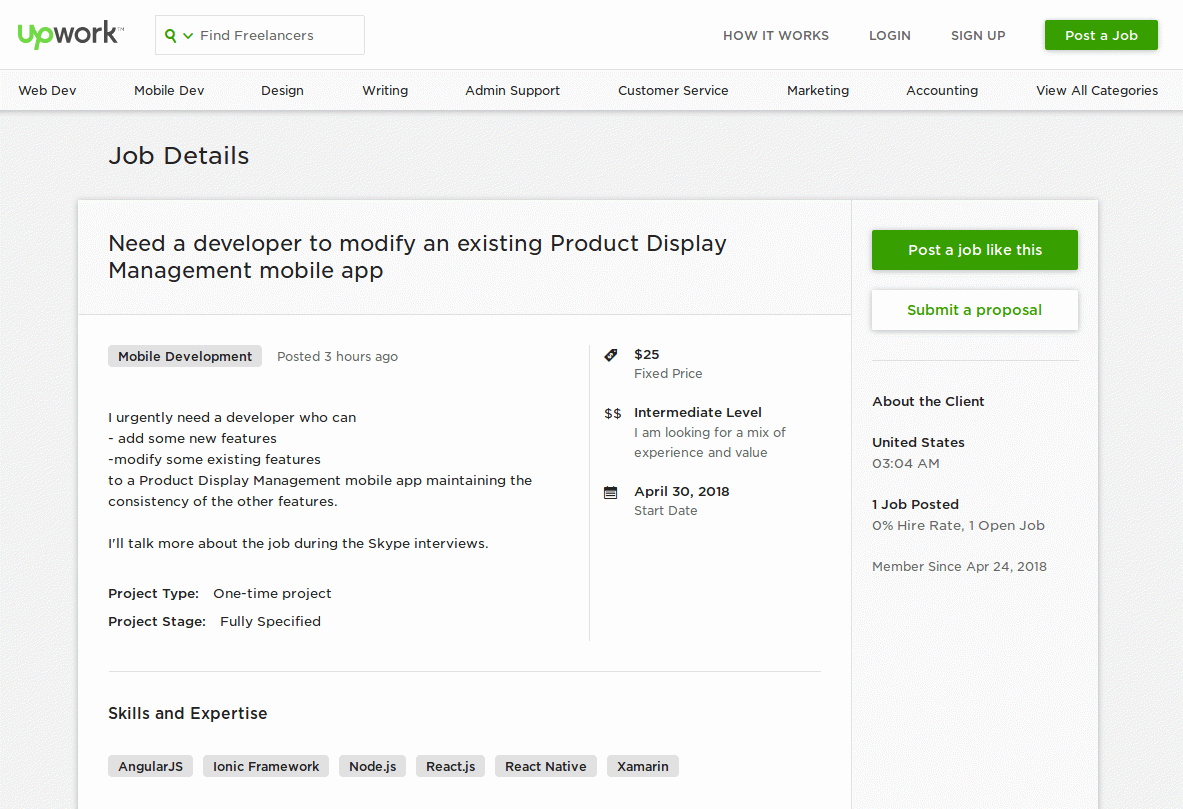 Upwork is the world's largest freelancing website that boasts a big number of Xamarin developers ready to make an awesome app for you. You'll have to post a job opportunity on the portal with the price you're willing to pay to the freelancer for his work, project start date, it's brief description and the required skills and expertise. With, unarguably, the most number of available freelancers, finding the right talent quickly on Upwork is not a stretch.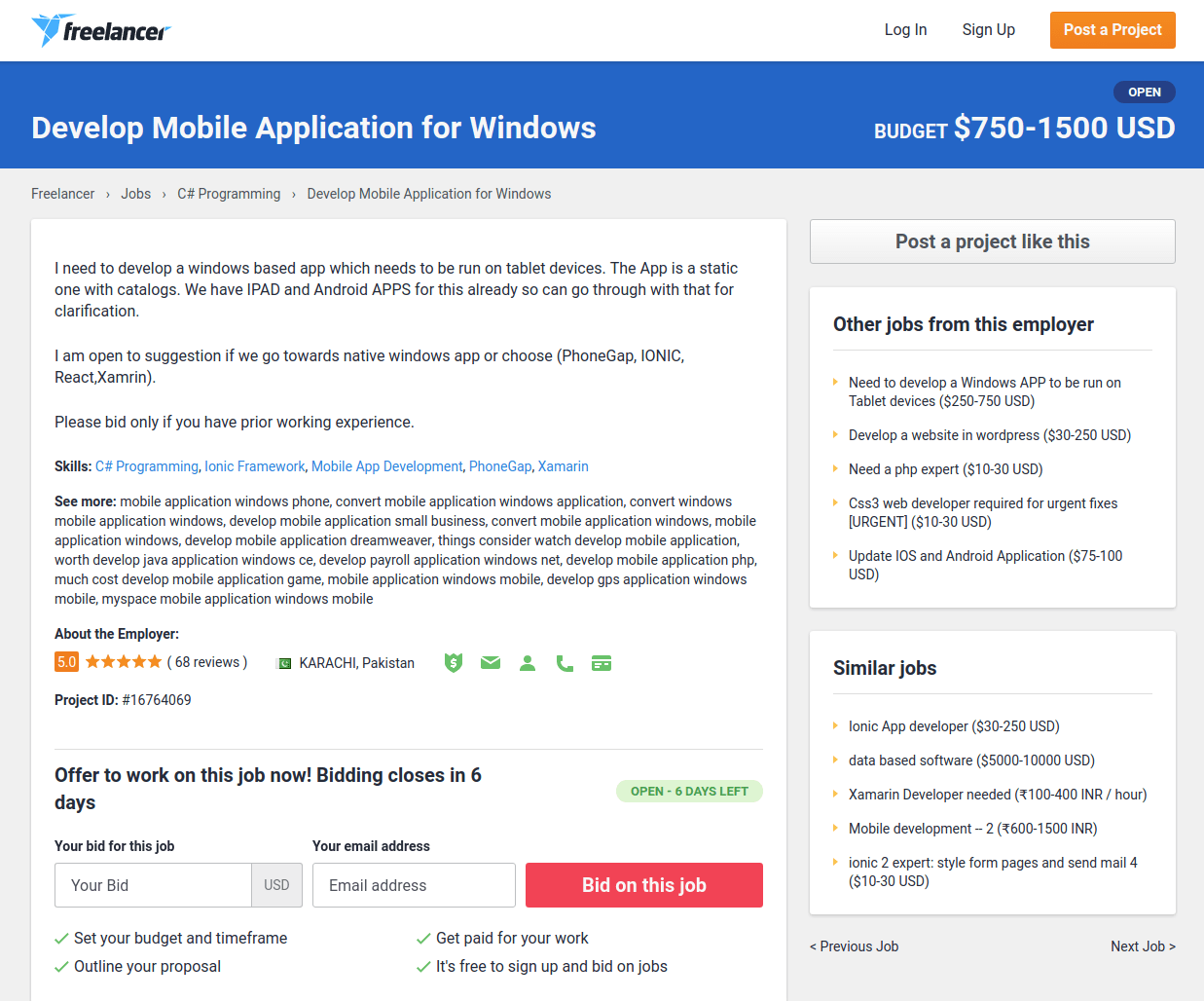 For hiring freelancers, Freelancer is also a great platform, no less than Upwork when it comes to hiring talented professionals. Here you will have to post your requirement of a Xamarin developer along with all the details of your project, expectations, required skills and contact information. Interested freelancers will place their bids on your project and you can choose your desired freelancer based on the submitted bids.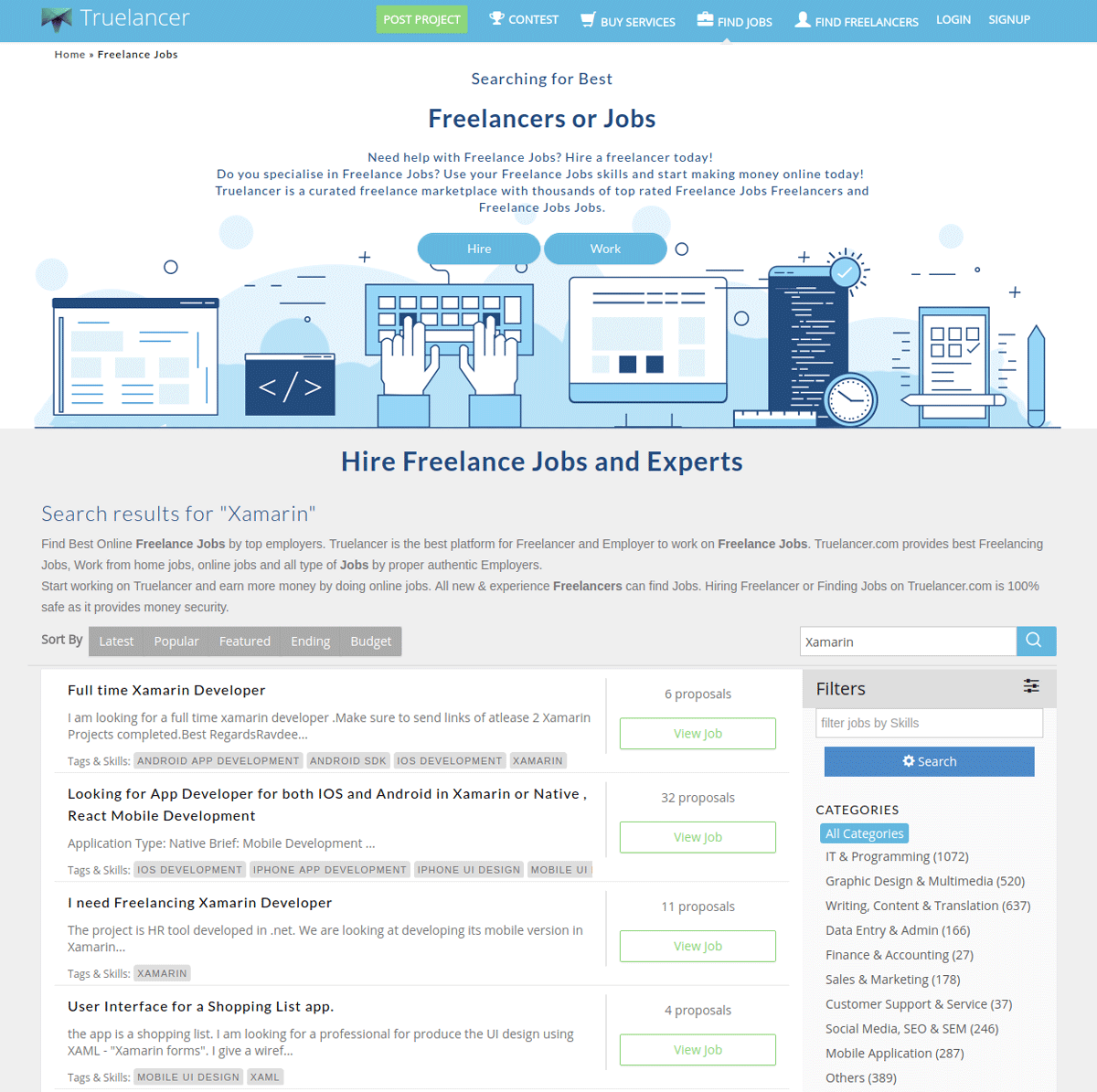 With their strong footprints in India, you can find a lot of talented Xamarin developers on Truelancer that can build your preferred mobile app. Like Upwork and Freelancer, you'll have to post a job opportunity on Truelancer along with relevant hiring information.
Other than the above-listed freelance portals, you can also find a lot more on the world wide web if you haven't met your perfect Xamarin developer yet. Seriously, there are plenty!
Whether you decide to hire from a full-fledged mobile app development agency or a freelance portal, both have their own pros and cons that you need to access and weigh beforehand before making the final decision.
Like, if you decide to hire a freelancer, you will be responsible for the end quality of your app while in case of an agency, they will make sure that the app performs optimally and adheres to your design requirements. If anyhow, you are not happy with your app, some agencies also offer full money back policies while there is no such luxury when you'll be working with freelancers.
Make the choice that goes well with your business requirements and budget.
The number of mobile app downloads is projected to reach 353 Billion in 2021. Hire a professional Xamarin mobile app developer today and begin your quest of garnering more eyes for your business with the help of a stunning mobile app!

Subscribe to Saffron Tech
Explore your marketing zen with our newsletter! Subscribe now.