"Doing exercise without monitoring yourself will be rare in the future of wearable technology."  – Astro Teller (Author)
With the changing technology, it's now easier for us to track helpful information, which makes our lives seamless and effortless. But do you know these days you can wear technology to keep track of your health and fitness or complete your routine tasks? Maybe you are aware of some gadgets to track your health, but there are smart glasses, rings, hearable, clothing, helmets, etc., that will change the way you do your regular tasks.   
What if your finger ring gave you an important notification or helped you unlock your car. Or a helmet that allows you to listen to music, use GPS, and receive phone calls. That seems imaginary? Right! But no, it's realistic. You can now enjoy better connectivity within your devices without actually using them. 
So, what do you think? Are you ready to have fun with advanced wearable technology 2022? Of Course, it's a big yes. How can someone say no, after all, this craziest and funky wearable technology that will enhance your lifestyle? 
Even people have started purchasing these wearable technologies. According to Statista, the ear-worn wearable technology will exceed 44.16 billion U.S. dollars by 2022. Here is a graph showing the trend of wearable technology by 2022.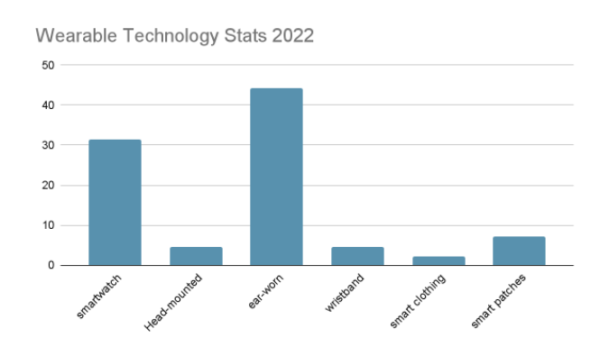 That shows that people are now moving towards wearable technology as they are easy and handy to use. Maybe you also have some wearable technology, but what goes wrong in trying some new wearable technology in 2022. 
If you also love to wear technology, here are some insane wearable technologies that you must try to stand out this year. So, what are you waiting for? Just have a look and grab your one!
But before that, know more about what wearable technology is. 
What is Wearable Technology?
Wearable technologies are miniature devices that enable you to keep track of your routine tasks and connect with your device ecosystem. These devices are either worn over or underneath the clothes. Usually, wearable technology consists of microchips that make your life smoother.   
In this fast-moving world where everything is going at a breakneck pace, wearing mini gadgets in your lifestyle will enhance your working capacity and change the way of your work.
Do you think this wearable technology is beneficial? If your answer is no or you are still confused, you should look into the below benefits of this wearable technology to make informed decisions.  
Benefits of Wearable Technology
Track Your Activity & Increase Productivity
These days tracking is one of the crucial parts of our routine as it allows us to manage our life and tasks better. Wearable technologies like fitness bands and smartwatches are some of the devices which help you track your activity and health status.
Wearable technologies are also beneficial in big supply chains where workers need to continuously monitor and analyze the product chain as these gadgets are compelling to improve your productivity.
According to Biz Tech Magazine, Companies like GE Aviation see improved productivity up to 12% after deploying smart glasses. [1]  So, if you also want to enhance your workforce productivity, it's best to add these gadgets to your toolbox.
These days, where every second matters, you can't waste your time getting stuff from your bulky gadgets. But how to manage the time and speed up your work? There is a solution to this problem, i.e., wearable technology.
Gadgets like smart clothes, 5G-enabled devices, smartwatches, AR & VR wearables, etc., are made to enhance your speed. As per a survey, almost 70% of early-adopting ICT industries are more interested in adding next-gen technologies. [2] That is because wearable technologies are futuristic gadgets that allow you to get important notifications, make calls, and unlock your car.
A wireless scanner or a wireless touch id is standard these days. But what if I say you can mine cryptocurrency through a watch on your hand. It seems unrealistic, but companies like Tesla will launch phones to mine cryptocurrencies soon. [3] So, you can expect a watch with mining capacity after 2 to 3 years.
Talking about wearable technology 20022, you will see a lot of devices that include smartwatches and rings that will help you upgrade your working style for a better work-life balance.
As you have seen some of the most known benefits of wearable technology, now it's time to end your curiosity about the new wearable technology trend 2022. Here are six wearable technology trends for 2022, so you can upgrade your gadget toolbox.
Top Six Wearable Technology Trends For 2022
1. Smart Clothing & Wearables

Smart clothing and wearables are high-tech garments with inbuilt technology to add functionality beyond traditional use. These smart wearables can connect with your phones and laptops via specific applications and help you keep a record of your active metrics and critical biometrics. 
These clothes allow you to check your health and performance, which is very important to be in a healthy state. The performance and accuracy of these devices depend on the type of smart clothing. Here are some types of smart clothing, which you should add to your wearable technology 2022 bucket:
Smart shoes

Smart work clothes

Smart sleepwear

Smart activewear

Smart casual wear

Smart socks
The impressive benefits and advancements made this wearable technology get the market boom. As per market research, smart clothing marketing will grow from USD 1.6 billion in 2019 to USD 5.3 billion by 2022. [4] 
2. Smart Helmets

Most people feel bored wearing helmets and even fed up with this ritual. Imagine you are on a long drive with songs you like and GPS to track with the safety of a helmet. It somewhat looks like imagery. But no. 
These days there are smart helmets that have inbuilt speakers and GPS. These helmets use capacitive coupling that converts sound into vibration, allowing you to listen to music while biking.  
Apart from this, these helmets allow you to make calls, keep track of rhythm, calorie burn, route, speed, and stamina. According to global view research, the smart home market is expected to expand at a CAGR of 18% from 2019 to 2022. [5] That means many people are shifting towards smart helmets to have fun while maintaining safety.
3. Smart Glasses

Smart glasses, aka wearable computer glasses, are among the best wearable technology trends in 2022; they're an exciting experiment that will enhance your efficiency and working capabilities. These smart glasses come with AR (augmented reality), VR (virtual reality), a Camera, Bluetooth, built-in earbuds, noise cancellation, face recognition, health sensing, audio recording, etc., features. 
These spectacles will make you feel like wearing a mobile on your eyes as it can do almost all tasks as a phone can do. According to Statista, the AR glass revenue is forecast to amount to around 19.7 billion U.S. dollars by 2022. [6]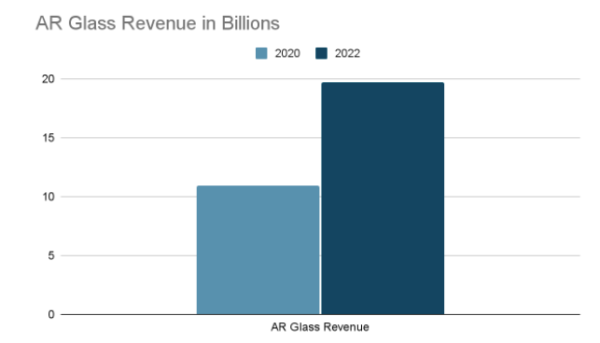 The above graph shows that people like the advancement in technology as it enables them to get in touch with their devices while away from them. 
4. Smart Rings
The idea of putting technology in your finger seems unrealistic. But no. It's true. You can wear smart rings on your finger to keep track of your health, swipe up for payments, and get important notifications.
These smart rings are gaining popularity among people who spend significant time on meetings and want to get notifications without actually looking into their phones. Plus, you can unlock your car and control some of your household devices with this mini gadget. 
These smart rings come in a wide array of colors and styles, giving you a broad selection to choose from.
5. Smart Hearables
Smart wearables are technically advanced in-ear devices designed for wireless transmission, medical monitoring, and fitness tracking. These devices are one of the best wearable technology trends in 2022 as they allow you to enjoy music while monitoring your health.   
According to Statista, 1 out of 4 Americans will be using wearable technology by 2022. [7] So, if you also want to get yourself ready for the changing trend, it's best to have one smart wearable for yourself.
6. Smart Implantables
Monitoring your health with an invisible device feels like the Avengers' World. But, indeed, these days, people can keep a record of their health by implanting a device in their body. 
Proteus produced sensor continuing pills to monitor blood pressure and other health metrics. [8] The first digital pill allows users to get their body metrics using an external device after swallowing the pill. However, the pill is still in the queue for FDA approval.
Takeaway
Wearable technology is growing strongly in demand as more people prioritize their health and fitness. Wearable technology 2022 is far better and advanced than the previous five years because of changing technology. Above are some best wearable technology trends 2022, which will enhance your working capacity and make it easier for you to check your health status while enjoying the fun of these devices.
From smart clothing and wearables to smart helmets, smart glasses to smart rings, smart wearables to smart implantables, there are a lot of wearable technology trends for 2022, which you can purchase to make your routine seamless.
Subscribe to Saffron Tech
Explore your marketing zen with our newsletter! Subscribe now.