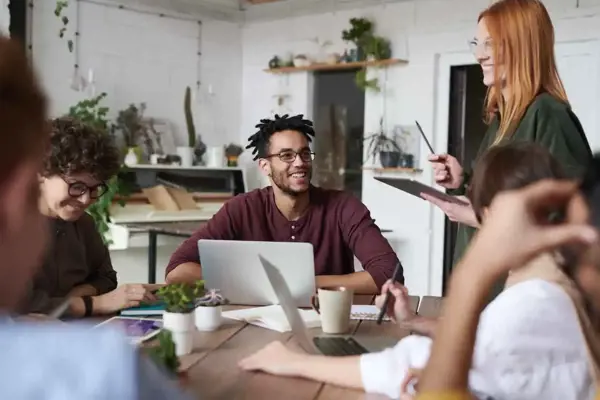 The IT industry is finding it extremely hard to retain skilled employees. There is constant turmoil and vicissitude about the workforce that is costing companies huge amounts of money.
For example, employee attrition costs businesses in the USA $1 trillion annually.
What are the top 5 staffing issues that are causing businesses problems?
#1
Attrition Rates in the IT Industry are Soaring
The attrition rate is the number of employees that leave a company over a given period.
Did you know the effective cost of replacing an employee can be
up to two times
their annual salary?
Couple this with the fact that more employees are leaving IT companies now than ever. Many economists have labeled the post-pandemic era as "The Global Resignation", and for a good reason. Employee attrition is impactful to the point it has become unignorable.
McKinsey & Company collected data regarding the reasons people quit. Here is a graphic representation of the same by Statista: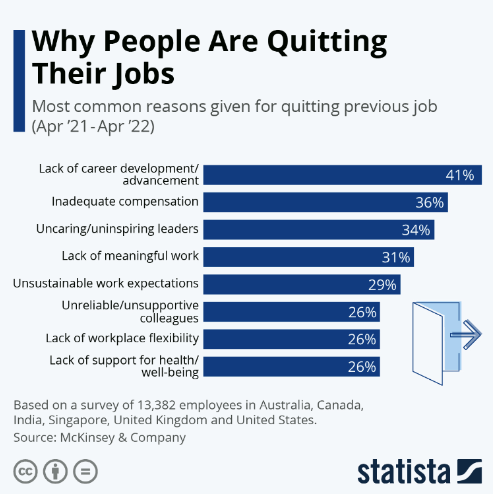 These numbers change according to location, but the common theme stays the same: employees are unengaged in their jobs. Actively disengaged employees are not just unproductive but also lower the team morale, by means such as lowering the overall standards of performance, bad-mouthing, etc.
51% of employees are disengaged in the workplace.
Why Should You Care About Employee Engagement?
Disengaged employees severely bring the productivity levels of the entire team down.
Businesses with high levels of employee engagement show 21 percent more profitability, according to Gallup.
#2
Low Levels of Productivity
When you boil it down, low productivity levels and high attrition rates are both symptoms of the same disease in the modern corporate landscape that is low employee engagement.
Did you know? The average office employee is only productive for
less than 3 hours
of the day!
Consider that more modern employees are disengaged now than before. Employees steal time from companies in a multitude of ways, and it is increasing.
Chit-chats in the hallways extending for too long
Lunch breaks leaking out from both ends of the recommended time limits

Misusing extra time and allowances for unsupervised physical meetings

Absenteeism

Checking social media for far too long
#3
Lack of Business Agility
While it is possible to influence the market, it is seldom possible to control it.
Business agility is critical.
What is business agility? It is the ability to be responsive to change, often in the following ways:
Collecting data that is both high in quantity and quality

Efficiently processing and analyzing this data to make reliable decisions

Initiating structural and organizational change

Managing talent efficiently through change

Constantly re-evaluating and navigating fluidly
The truth about most corporates is that there is usually a gap in expectations between the employees and the management. While the leadership may understand the importance of change and agility, the workforce may have settled into a comfortable routine.
This lack of alignment can be detrimental. Businesses may lose an edge in the market and competitors may take over.
Constant Change in the Workforce Complicates Things Further!
High attrition further hinders business agility. So much time is wasted in hiring quality replacements or training employees to bring them up to speed.
The constant stream of trained employees leaving has work cut out for the management.
Surely there must be a solution to this problem? Upgrading the HR department to operate efficiently and make scalable-friendly appointments is an option. However, there is a better solution that we shall discuss later on.
The next most important staffing issue in the IT industry is the…
#4
Undersupply of Experienced Talent in the Competitive Market
Is AI going to take over jobs in the coming years?
Studies by Korn Ferry tell a completely different story: there will be a huge lack of skilled talent compared to the number of jobs by 2030.
The idea of artificial intelligence and the jump into the metaverse excites everyone. However, there is an undeniable lack of skill and expertise and it has become really difficult for IT companies to fill it. It is costing them too. 
Korn Ferry predicts that
$85 trillion
could be lost in annual revenue by 2030 due to the lack of skilled talent.
#5
Employees are Not On Board With Fluctuating Workload
There is a difference in expectations between the employee and the employer in many IT firms. The employees believe that they have been hired for a particular time and start to disengage when given fluctuating workload. Employees highly prefer a stable stream of workload across long periods.
Many IT organizations, by the nature of their work, demand a fluctuating workload; for example, 
due to project deadlines.
How to Tackle These Problems?
Internally, organizations can launch efforts to increase employee engagement. These efforts may include:
Experiment with hybrid workplaces with work-from-home days

Increasing rewards

Launching hobby clubs

Providing healthy and tasty breakfasts
However, employee engagement is not the quickest and the most cost-effective method of tackling the top 5 staffing issues in the IT industry.
How to Address the Issue Quickly and Efficiently
Outsourcing can be a huge boost that pushes organizations forward into a vortex of growth.
Outsourcing has worked brilliantly for other spheres, such as customer service, in the past. A third-party firm that has expertise in a particular service or solution can take over all or partial responsibilities of a particular department of an organization.
It has also started to gain favor in the IT sphere.
How many IT teams are experimenting with outsourcing?

87%

!

About

14%

of the total IT budget goes to outsourcing
As the market has developed, the quality of outsourcing has improved dramatically. This has grown to the point that organizations are able to find cost-effective solutions for hiring expert talent.
Does Outsourcing Solve Real IT Staffing Issues?
You only pay for what you receive. Talent management is also a far easier process.
The outsourcing agency ensures quality output and handles all other processes of talent management, including hiring, training, productivity management, employee benefits, etc.
When outsourcing to a reputed firm, you are guaranteed to have expert talent that is better than industry standards. Since these agencies often specialize in a particular area of expertise, their entire internal structure revolves around the development of skill and experience in that particular area.

Outsourcing can also be cheaper even if you may be receiving talent that is greater than the industry standard. The fact that the agency specializes in a particular area of service plays a role in that.
In the more drastic cases, currency exchange can also play a huge role. You may be able to hire high-quality talent that may be satisfied with a lower payment sum because of the difference in the currencies of the two countries. In fact, they may personally experience that monetary sum as lofty and may actually become actively engaged and highly dedicated to both the job and to ensuring that your vision comes to life.
Your organization does not have to invest time, resources, and effort in non-productive efforts such as rushed hiring, replacement, training, etc. Instead, your organization can dedicate its resources to launching employee engagement programs so that attrition is decreased. It can also increase its effort in the hiring of more quality talent that is in alignment with the vision of the organization. Talent that is hired under pressure can end up costing the company in the long run.
Saffron Tech Brings Something Special to the Table
Besides the guaranteed quality that all clients of Saffron Tech experience, they also enjoy the wide array of IT and business solutions that Saffron Tech offers. These include:
Wait,
There is More!
While outsourcing is a wonderful tool that brings business agility to an IT organization, there is another method of solving staffing issues. This method is a holistic, long-term solution and involves a directional approach.
Strategic Consulting
The human resources department defines the long-term state of an organization. Success and growth hinge on staff management.
For ideal functioning, the human resource department must be in both micro and macro sync with the vision and the mission of the organisation.
Strategic development is key in ensuring that every step that is taken is not only correct but also in alignment with the holistic growth of the organization.
Saffron Tech Believes in Data-Driven and Holistic Business Strategies
Data is integral in the modern corporate landscape. The quality and quantity of data one can collect determines the validity of the decisions that they make.
Saffron Tech's growth-accelerating strategic consulting is data-driven. Saffron tech stands in good stead in ensuring a sure path for your organization, based on quantitative, data-centric analysis of both your business and of the competition and the market.
We provide robust solutions and provide expert help regarding business problems, such as staffing issues at challenging points. We stay 100% engaged with our clients, ensuring that everything is seamless and the entire process is stress-free.
A Bonus Solution!
Saffron Tech also provides employee management system solutions that streamline IT staffing logically, efficiently, and cost-effectively.
We would love to hear from you!
Get in touch with us here.
Subscribe to Saffron Tech
Explore your marketing zen with our newsletter! Subscribe now.