We have bagged many prestigious awards in the field of Technology and Marketing solutions over the years, and this time we are proud to have been recognized as the Most Reviewed Advertising Company in India by The Manifest. Our team has worked hard to ensure our clients receive the best possible results and customer experience that encourages them to share some fantastic reviews and feedback over time. 
We believe that this award is a collective win for our team! It also shows tangible proof that our team can be a sustainable growth and marketing partner for strategic IT consulting, proficient technology, and digital marketing.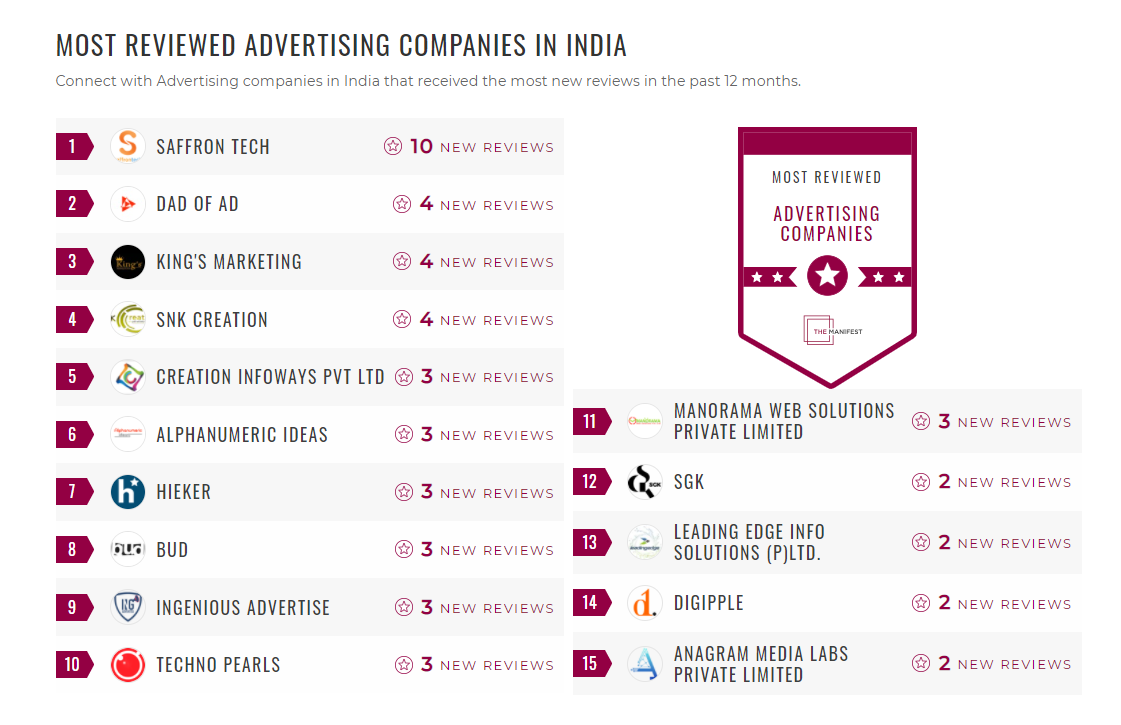 And That's Not All
Besides receiving the Most reviewed Advertising Company in India, we have also been recognized in the following categories by The Manifest as well:
Most reviewed PPC companies in India

Most reviewed SEO mobile optimization companies
Since 2008, we have been determined to deliver industry-transforming solutions through a holistic suite of technical expertise. Over the years, we have evolved into a team of digital veterans in the landscape of IT and digital solutions. We strive to blend innovative methodologies, our domain knowledge, and craftsmanship in the coming days of the future. These awards and recognitions just help us reinstate the faith in the core vision of our company.
Today, we have clients from all across the world from different business strata. We see immense potential in their businesses; that is why we develop robust IT solutions that can help them streamline their business operations. We enable them to build communication channels and generate revenues they always wanted to. With our long-serving experts who have practical knowledge of diverse technologies, we are bound to meet client goals and their business objectives. We feel this is the reason why we get awarded by such generous client reviews!
We Shall Continue To Conquer New Milestones!
As an end-to-end  IT company, we can address various development services, and IT needs to our clients no matter which part of the globe they come from. It's been more than 13+ years since we began; however, Saffron Tech has successfully executed over 2000+ projects! The spirit within us motivates us to excel in clients' business expectations, and that's not something new! We shall continue to conquer new milestones and continue our winning streak.
Subscribe to Saffron Tech
Explore your marketing zen with our newsletter! Subscribe now.