Did you know an average person has about 40 apps on his mobile phone? 
The numbers of apps getting uploaded to the mobile apps stores are whopping! But not many of them make it to the mark without spending a fortune – But the ones who do, go for Strategic Mobile Marketing.
In easy words, a mobile marketing strategy is directly in line with internet marketing, aimed at targeting mobile users. Mobile phones are an indispensable part of our lives which are increasingly becoming the source of our digital enlightenment. 
Now if you are looking to scale your app, your primary concern should be reaching out to your targeted audience at regular intervals of time to make your mark in their minds. 
Mobile commerce is rising at breakneck speed and with it, is rising the scope of mobile marketing. With the right strategy and tools at hand, you can easily facilitate mobile users to join your network. According to Statista, there were 2.56 million apps available on Google Play and 1.85 million apps were available on Apple's App Store in the first quarter of 2020. With your competition base being so vast, it will get a little rocky before you hit the shore but, if you are consistent with your efforts and invest in strategic marketing practices, you'll be able to make it. 
So here are a few essential tips that are used by most mobile app-preneurs to stay afloat – 
Marketing starts even before the app is developed, conducting thorough market research is an important aspect of marketing. It helps you gain insight into the diverse customer dynamic and form a vision for your app. You can divide your marketing strategies into 3 stages- pre, during, and post the launch, each progressing stage will require a different approach but should flow out into the next one. 

Regularly updating your app is the key to enhancing customer experience. You can act out on customer reviews or roll out new features every now and then to keep the users engaged and satisfied. 

Be regular with measuring your app's success based on factors like the number of active users, session length, session intervals, time spent, screen flow, and such to optimally make future decisions regarding your marketing strategies. 
GIVE USERS A STORY THAT COMES WITH A VISION AND FUN!!
Another significant factor that contributes widely to your app's success is the STORY behind its conception and the kind of adventure it will be for the users to use your app. Everyone loves a good story and it makes communicating your vision fun. Sharing your journey will instil sentimental value in the hearts of your users and they will be able to resonate with you better. It will give your digital brand a human aspect to get users hooked on it. Understanding your audience and their preferences are crucial to developing an engaging storyline.
Your story must consist of a strong element that aligns with your brand values and must be set in the right tone. You can use various mediums to share your stories such as a short video, text, infographic, GIF, and more. Adding visual cues to your story will significantly increase the engagement and help in retaining their attention. Aim your story towards conveying your journey packed with highs and lows, all the while, inspiring and motivating the audience. An influential story will make the audience understand the need for your product and have them act on it. Just remember to keep it simple, realistic, and fun.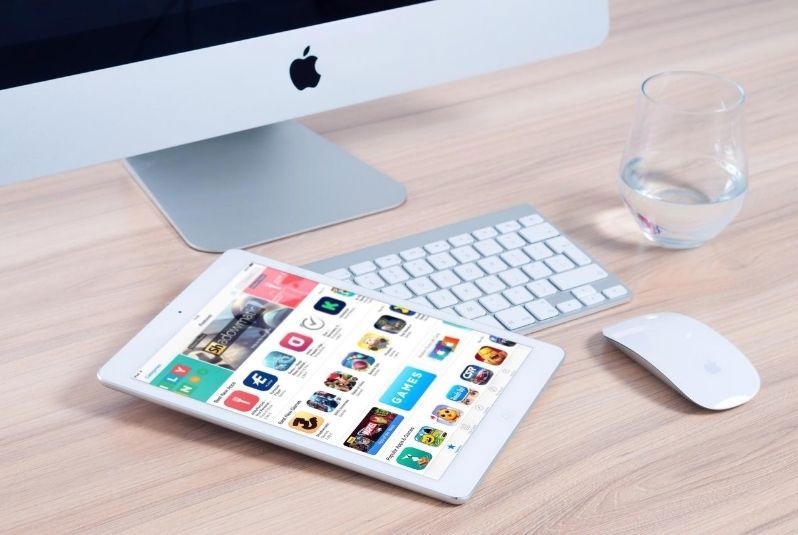 Leveraging ASO
App Store Optimization, commonly referred to as ASO, is overlooked by most app developers more often than not. It is a process of optimizing mobile apps in accordance with the app store to get them to rank higher in the store's searches. It is "THE THING" for app developers looking to scale their apps as 63% of apps are discovered through app store searches. You would not want to be one of those developers who focus only on core marketing strategies and lose up on potential downloads. Not that, core marketing strategies will bear no results but it is the combination of both which will get you the desired results.
The jump from 0 to 100,000 is not the easy but fairly doable as well, here are some simple tips to help you in leveraging ASO:
Strategic app title and description
The title of your app is one of the most essential factors contributing to your ranking on the app store. It should include the name of your app along with some relevant keywords. It should be catchy but simplistic and must appeal to your targeted audience. Your app's description also plays a key role in optimizing your ranks, so make sure to write a concise and engaging copy that highlights the core features of your app. 

Thoroughly researching relevant keywords should be your top priority when beginning to create a title or description. You can take clues from a competitor's app and check for trending keywords to use in your title and description. However, keyword selection is not a one-time thing, you need to actively optimize the content on your app based on trending keywords every 2-3 weeks. 

The first thing a user does after landing on your app page is to check the layout of your app. Using high-quality screenshots can help with retaining the interest of the user and give you a chance to highlight the best selling features of your app.
Localization
There is an abundance of non-English speaking countries in the world where people prefer their apps to be optimized in their local language. Studies have shown that localizing an app can significantly increase the downloads of your app. Google play even has a special feature to upload one video per language and in case you are not willing to invest in getting your videos translated, you can simply use Youtube's transcription feature and use the transcript as per the user's language settings. Localizing your apps brings a lot of opportunities your way and increases the audience base manifold. However, it is important to keep in mind the cultural preference of your targeted geographical market as you wouldn't want to unintentionally hurt their sentiments in any way. 
Battle negative reviews and encourage positive reviews
A happy customer will always serve as your brand ambassador, with this in mind, make sure you keep a tab on your app's reviews. Touch base with the users posting negative reviews and help them solve their issues. According to a study conducted by Neil Patel, it was showcased that ratings and reviews can significantly affect your search rankings. Create an easy interface for problem resolution or allow your users to get in touch with the developers inside the app and continuously work hard towards resolving their problems. It is not only about battling negative reviews but you also need to encourage happy users to submit positive reviews. The most common strategy adopted by app developers to get regular feedback is prompting active users to leave a review or rate their app before each login.
Correct pricing strategy
It is essential in the initial period to get as many people to download and use your app as possible and that is why it is advisable to try the option of In-App purchases. Herein, the core functions of an app are provided free of charge and additional features can be used by paying for a premium account. Having at least two plans for premium accounts is considered to be an optimal choice as it allows users from all income groups to engage and get a plan as per their needs and finances. With 'n' number of apps being available for free, it is hard to get users to pay for a selected service. If your services are unique and you don't have an active audience, it can be hard for you to hit the 100,000 mark with a pay-to-download app.
Another trending strategy is that you let users download and use the app for free for a predetermined period of time and then when the users are hooked on it, you can prompt them to pay for your services. 

Other Promotional Strategies
Once you are all set with ASO, it is important to get on with the traditional promotional strategies. The point in implementing a two-pronged approach is to increase your reach as much as we possibly can and engage the audience to an extent that they retain the information we are feeding them. 
Here's a list of ways in which you can further publicize your app-
Influencer marketing
According to a study by AdWeek, it was showcased that influencer based marketing can generate an ROI of %6.50 for every $1 spent. Now, this fact alone states clearly as to why you need to tap into this potential. The first step into developing an influencer based marketing strategy is to identify and reach out to influencers related to your target audience. These influencers can be based out of any platform be it Youtube, Instagram, or any other trending platform. The next step is to pitch them into either using your services/products and reviewing them on their handles or have them do a paid collaboration with you. You can reach out to as many influencers as you like to promote your products/services, the more the merrier. 
Invest in Public Relations
Doing publicity the right way can be a very challenging and lengthy process but can bear very fruitful results in the long-run. It starts with targeting early adopters by getting your app featured in various platforms and portals to build a stage for your launch. You can reach out to concerned media outlets and reporters and pitch them into carrying your press releases or invite them to cover the launch. The second step is to create story ideas based on your app and pitching them to media outlets, they can do anything related to the app's segment and can also involve other players from the industry. This will give your segment a collaborative push and highlight all the key players. The last step is to be in constant touch with relevant reporters and media outlets, occasionally supplying them with insights to get features in their publications. 
Social media
Social media is all about content, creating handles on popular social media platforms, and generating engagement is your main goal. It is super easy to trend on social media if you know how to leverage the content. It is also important to engage with your existing customers and prompt them into sharing your feeds. According to Nielson, 90% of the users will act on recommendations from people within their circle, and leveraging this potential can get you to 100,000 in a matter of weeks. 
Now, with all these tips at your disposal, you are all set to celebrate your 100,000 mark soon enough. However, executing such campaigns can be really challenging and time-consuming. If you are looking for experts to help scale your app while you get down to the core of operations, you've landed in the right spot. Saffron Tech has an expertise of over 12 years and provides strategic marketing solutions best fit for your budding app. Have a look at our services here and decide for yourself. 
Subscribe to Saffron Tech
Explore your marketing zen with our newsletter! Subscribe now.