Push notifications can do magic for business success if done correctly. But these days, many individuals view push notifications as intrusive. However, the real problem isn't with push texting. Instead, that's the wrong push marketing approach that persuades customers to stop receiving push notifications and, worse, to uninstall the app. Here's how you can approach it correctly.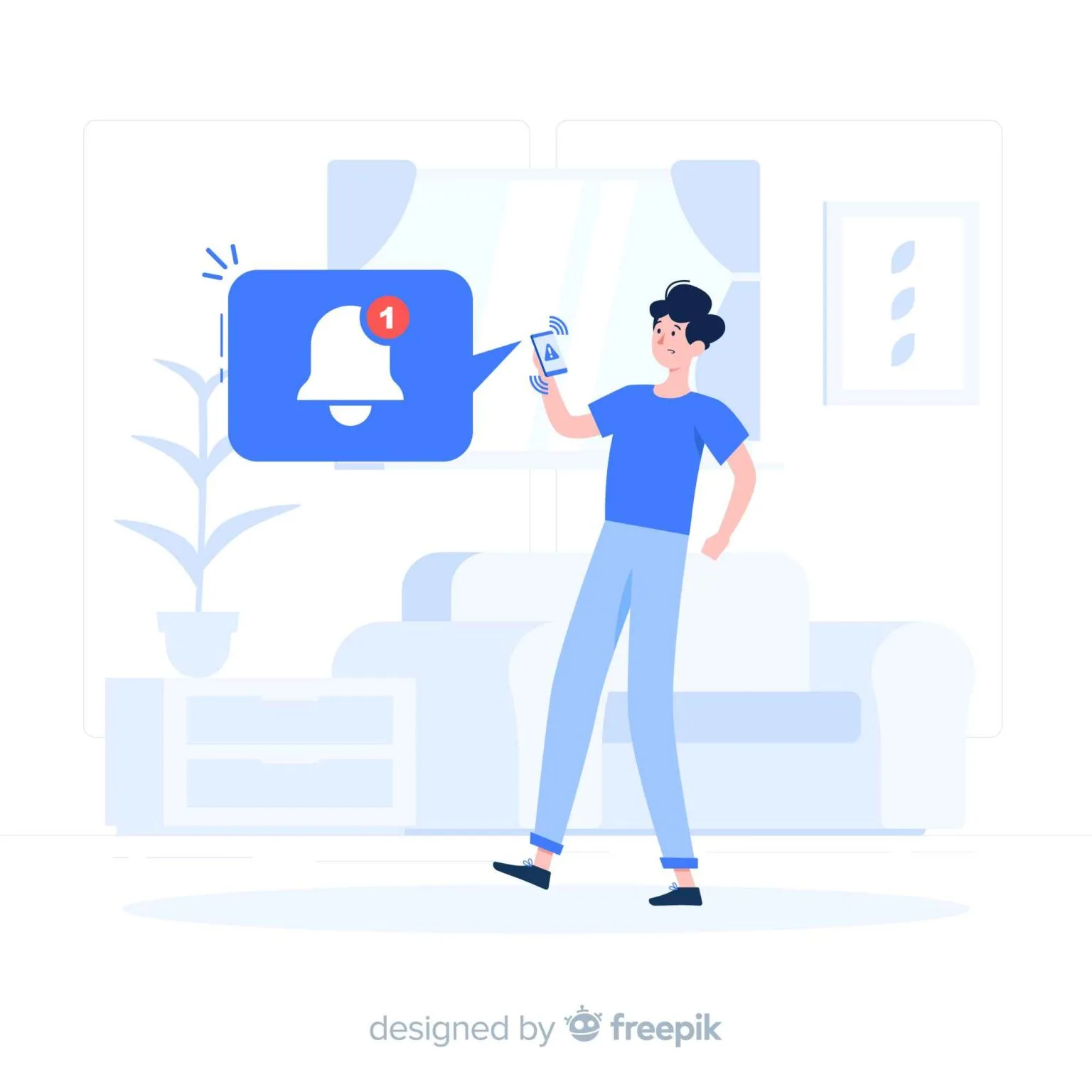 Push notifications can attract and convert more devoted users. According to research, well-designed and strategized push notifications can bring CTR up to 30%, ROI up to 2200%, and website traffic increases up to 25%. But it's crucial to quickly understand warnings before moving on to the strategies to grow push notification subscriptions. Push notifications are those pop-up messages that arrive on the browser and mobile devices as users land on them. These are quick updates, reminders, or letters used to interact with users.
How Do Push Notifications Work?
A push notification appears on the window when a visitor visits the website or afterward. It's a brief, customizable message sent to their browser, computer, or mobile device. 
By integrating increased push notifications alongside precise push notification tracking, businesses may successfully re-engage consumers who have left the app or website. With this kind of interaction strategy, you'll be capable of increasing customer retention and revenue. However, among the most challenging aspects is persuading individuals to subscribe.
The proportion of new visits to the site vs. guests can be seen using a reporting and analytics tool, such as Google Analytics. By examining the hours spent on a page and the average number of page views across both visitor categories, one may determine which visitor is most interested in the content.
Subscribers in Mails and Online Networking sites: Issues with Subscription Lists
Many authors utilize email subscriptions in various styles across the website to transform visitors into subscribers. There are unique difficulties with email subscriptions when trying to increase the percentage of recurring visitors. Here are some of them:
You rely on the guest entering their email account accurately.

If the email system hasn't set up filtering to filter the email into the folder beyond the inbox, one must rely on it to send the mail to the user's inbox rather than their junk folder.

If you want repeat visitors to visit your website, you need the user to check the emails and go through them.
Social media is another tool that publishers use to retain readers of their material. But these platforms also have some problems, like:
Your ability to publish to the social media account or site and have it appear in the timeline of a potential follower revolves around the social network.

For repeat website traffic, one relies on the followers to see the post in the feed and tap through.
You are up against a barrage of communications from friends and brands the user follows across both cases—the mailbox and social networking newsfeed. A quicker and simpler way to boost the number of repeat visits to your website is through push notifications.
Learn When to Send Push Notifications
When you post new material, you may use push notifications instantly, on a set timetable, or constantly send messages to users and selected groups of subscribers. You may contact your subscribers with instant and planned alerts when you anticipate they will be virtual and prepared to interact with your material. Regardless of where their subscribers are located in the globe, one can contact them at the very best moment by setting up scheduled alerts according to their time zone.
Make Push Notifications Automatic
You may schedule the alerts to send out your fresh material if you're a busy writer. By doing this, one may drive people back to your website without putting in any more effort.
Implement Audience Segmentation
One may divide their subscribers depending on hobbies and other details to make certain the information you offer now meets their requirements and keeps them pleased. It would be helpful for websites that handle several topics to prevent fans with one case from receiving messages about a different one. Global newspapers often cater to subscribers' local interests by utilizing audience segmentation. For this, you can deeply analyze your customer's need to personalize the message for each customer. You can leverage AI tools to understand each customer's likings and dislikings.
Tips and Tricks for Increasing Subscribers
To immediately increase the subscriber list, here are some hacks:
Provide Incentives for Notification Subscriptions
Many businesses provide incentives to encourage customers to sign up for push alerts. These incentives range from offering customers a 20% reduction on their subsequent purchase to receiving a complimentary gift. You may give visitors a solid motivation to subscribe with only an appealing offer.
To offer this incentive, one may use the flyout widgets or the overlays that show alongside the browser inquiry. Note: One can include the discount code in the welcome message if they guarantee a deal for joining. In this method, customers who subscribe would immediately get a statement with the coupon code, enabling them to redeem their incentive rapidly. Continue reading to discover how to include a discount in the welcome email.
Before requesting authorization to deliver push notifications whenever a visitor arrives on the site, it is essential to give customers some time. Before customers take any steps or engage with the store, they have little time to browse the website and acquire a better idea of your business and your items.
The web prompt's timer may be readily modified, allowing neo even to add a delay so that it appears a little while after the customer landed, depending on the user's device.
Configure Push Notifications for Out in Order Alerts
Many customers that browse the business might not have signed up for your push alerts. But they could be open to signing up for notifications if a product they are fascinated with goes out of supply. The "Again in Stock" function is helpful in this situation.
Configure the Back in Supply mechanism to enable customers to buy a particular product. Additionally, you can attract site visitors who had no intention of subscribing.
Established Push Notifications for Price Reduction Alerts
Some people who are shopping while browsing can be interested in buying an item whenever the price lowers, similar to when a product is out of supply. One may guarantee a future purchase from the subscribers and have the chance to offer them better deals by providing them with the choice to sign up for notifications.
Use Flyout Buttons to Re-engage Site Visitors Who Banned the Push Alerts
Many customers entering a business are likely to reject the browser alert or select "Block" as soon as it appears. However, it's crucial to ensure the company can re-engage these customers and get them to sign up for the alerts. That is what the flyout widget allows you to accomplish. You may present a tempting offer to customers using the flyout widget, a tiny banner on the bottom right of the business. This widget may be altered to include a persuading message.
Prevent Subscriptions by Giving Pertinent Updates
Retaining your current subscribers is an essential part of expanding the subscriber list. Current users frequently choose not to get push notifications because they believe the website is providing too many irrelevant advertisements.
How many alerts are too many? It might be challenging to estimate how many alerts one should send each week without having a reference point. Many sites finish up spamming their subscribers and losing out again on subscribers because they can't figure out the correct frequency.
Along with sending the appropriate quantity of push notifications, it is critical to maintain the push notifications' relevance and timeliness. The moment push campaigns can have an expiration date set using the "Fast Sale" functionality. Doing this may prevent your system from sending a push notification after the deal has ended. 
Within the Push Notice, Create a Recommendation
One may choose to deliver a welcome push notification once a visitor signs up for the push notifications. Giving new members a referral code is a fantastic approach to maximize this initial impression. A recommendation can ensure that the current subscribers drive in many more new customers to your business and raise your chances of acquiring a recent push notification subscriber, even though it doesn't immediately improve the subscriber count. 
Build Up the Subscriber Base for Web Notifications!
Individuals can quickly increase their subscribers by optimizing how their customers see your opt-in, giving customers a reason to subscribe, and offering more opportunities for them to opt in. It will also ensure that users get the most out of the carefully planned push notification campaigns. 
Still, confused about how to plan for push notifications? Get in touch with us; we will walk you through how a push notification will work for you. And how can you craft an appealing, irresistible push notification that can drive more subscribers and clicks? Contact us now!
Subscribe to Saffron Tech
Explore your marketing zen with our newsletter! Subscribe now.