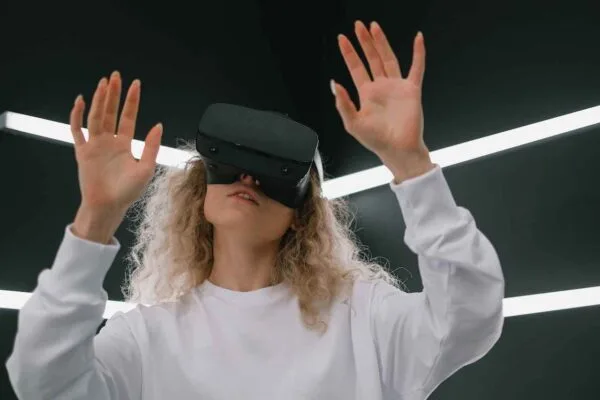 Customer experience is one area where augmented reality is now being used widely. Modern businesses use augmented reality applications throughout the customer journey to provide their clients with more exciting interactions.
Augmented reality (AR) alters how consumers see their immediate environment by superimposing digital information on top of real-world surroundings. Organizations can more productively engage with customers at every stage of the customer journey with the help of augmented reality customer experience initiatives.
As augmented reality technology has progressed, brands have almost infinite options for engaging with customers in the third dimension via mobile devices. The mobile augmented reality (AR) market was worth $6.87 billion in 2020, but experts predict it will be worth over $26 billion by 2025. Companies now have a powerful new tool to utilize the customer experience thanks to augmented reality (AR) applications, which improve the value of pre-sales, sales, and post-sales interactions.
How does AR improve the customer experience?
With the help of their smartphone's camera, users may virtually try on various items of apparel and accessories. Consumers benefit greatly from these details when deciding whether or not to purchase a product. Additionally, augmented reality may be utilized to add visual components, colors, and displays to the real environment when a person has access to a smartphone or tablet.
In many ways, AR has yet to realize its full promise to revolutionize the shopping experience. Surprisingly, there exists a technology that enables businesses to tap into this remarkable opportunity to interact with their customers in three dimensions, all from the convenience of their mobile devices. The consumer journey has become an exciting visual adventure using state-of-the-art visual effects. It's an effective method of influencing people to buy your product and developing a stronger bond with them.
The Benefits Of Using Augmented Reality In Customer Experience
At some point in their lives, everyone has tried on a brand new article of clothing only to discover that it does not fit properly. Conversion rates could decrease if people avoid making purchases out of fear of this happening. To ensure they get what they want, shoppers must be well-informed and vigilant. Consumers who risk purchasing only to be let down by it are more likely to exercise their right to return the item(s).
Because of the engaging nature of augmented reality and the material it generates, visitors to your site are more likely to become hooked. The longer they stay on your e-commerce site, the greater the chance they will make a purchase. As a bonus, increased engagement indicates that customers have created an attachment to your brand and product, increasing the likelihood that they will remember you in the future even if they do not make a purchase during their visit.
eCommerce with Augmented Reality
Using augmented reality (AR), consumers may experience products or services before purchasing without leaving the convenience of their own homes. Using AR, your customers will always be able to find the appropriate item for their needs.
Moreover, clients may see how a product will be displayed in their specific location in real-time via preview placement. Using AR, consumers can get a greater feel for the product they're buying online and how it will improve their lives. You can find apps of this type for about any product you can imagine, including clothing, makeup, and eyewear.
Some product categories may be unsellable on e-commerce sites because of the disparity between how they appear on a screen and how they appear in real life. This means that any ecommerce marketing strategy must incorporate augmented reality apps, as their popularity is only expected to expand alongside the popularity of online shopping.
Rev up Your Advertising Efforts
With the help of AR technology, commercials may become games for the viewer. Attracting and holding your target audience's interest is essential to any marketing campaign's success. Augmented reality is the only technology available now that can accomplish this. Customers are more engaged than with traditional methods due to the technology's ability to simultaneously entertain and inform them. It's possible to entertain and inform your listeners all at once. Anticipate significantly higher than average levels of participation as a result of this. Any market combination can be used to produce a next-generation marketing experience. If you think beyond the box, you can find a use for almost anything. These are only a few examples; the only limit is your imagination.
Using AR-based self-service, customers have easier access to a company's frequently asked questions (FAQs), manuals, and training materials on their smartphones, allowing them to resolve issues more effectively and independently. Improving customer service is a surefire way to make people happier and increase the number of times they use self-service options. We anticipate a decline in calls to our help desk, service visits, and returns with "no fault discovered" being reported, all of which will contribute to a more pleasant and satisfying customer experience.
Businesses may reduce the amount of time customers spend on hold when receiving technical support by using augmented reality visual support. The customer will be able to get instantaneous information with visual aid thanks to augmented reality technology. Is it still usual practice to hand out paper manuals, or has electronic instructions largely superseded their use? The augmented reality digital owner's manual is now available and will teach you everything you need to know to make the most of your new purchase.
If the product you're selling has a learning curve before it's user-friendly for newcomers, an interactive user manual could be a great way to help those buyers get up to speed. An interactive user manual responds to the user's actions and offers in-context support as they are using the program, website, or app. Many augmented reality user manual applications, for instance, function by scanning a product and displaying the buttons in a real-world context using moving arrows and a combination of text and images.
Even high-end designers like Gucci and Tommy Hilfiger are experimenting with VR to give customers a better sense of their products. With the help of their smartphone's camera, buyers can now virtually try on various garments and accessories before making a purchase. Consumers benefit greatly from these details when deciding whether or not to purchase a product. A CX program that helps consumers prepare for and respond to potential risks, such as a pandemic could give businesses an edge in a competitive retail environment. Letting people try out the products via AR removes the element of surprise and aids customers in making a purchasing choice. The more items a customer may try on at once, the better your chances of making a sale.
Foster Better Teamwork in the Office
Incontestably, a motivated group outperforms a sluggish one in terms of output and innovation. The modern office benefits from bringing employees together at a single table, regardless of how far away they may be physically.
With the help of AR technology, groups may work together more efficiently without actually being in the same room yet still reap the benefits of working together. It might be difficult for remote workers to engage with others, even if they are able to join meetings through phone or video. To-do lists, project planning, and even whole presentations are all areas in which this technology could be valuable for a distributed workforce.
Adding Value with Interactive Packaging
The first step at which augmented reality can affect the client experience is in the pre-sale phase. Actually, the retail industry is where augmented reality has the most potential to make a difference. A fantastic example of a method whereby this could be achieved is the concept of interactive packaging.
With augmented reality's interactive packaging, customers are treated to a novel and useful experience. Users are presented with appealing visuals by pointing a smartphone camera at a product's packaging.
For instance, the product's interactive packaging may provide valuable and applicable data. Additionally, companies can use augmented reality to give customers various entertaining information and encourage interaction. On the other hand, many companies across the globe have taken a lighter approach by providing customers with the opportunity to play augmented reality games while munching on their favorite delicacies. There is no limit to what could happen.
Participation of Employees
Many clients would rather talk with a real person when they have questions about an item, want to make a purchase, or have a complaint. Ensure that your customer care staff has received adequate training in this area. Augmented reality in education has great potential to improve and shorten learning curves.
Imagine a business that provides a wide variety of products. The company's customer service agents must thoroughly explain all products. Having only a cursory familiarity with the available products is not sufficient.
Only through practical experience can such a level of skill be acquired. With augmented reality software, employees may provide the same experience without touching the products themselves. You can train staff with augmented reality models in a fraction of the time it would take with the actual thing. In theory, if warehouse workers could save time and money, orders could be filled more quickly, fewer people would be needed to work there, and fewer customer complaints would be received.
Conclusion
Relationships with customers are evolving as customer experience (CX) becomes an increasingly important competitive distinction. Incorporating AR technology into business processes has been heralded as revolutionary by industry leaders.
Smartphones with AR capabilities are more than just a gimmick; they may be used to give individualized marketing, sales, and even technical help. As companies learn to use AR's unique features and hidden benefits, we expect to see more creative solutions that excite customers. This will raise the bar for what a truly exceptional customer experience should be like.
Subscribe to Saffron Tech
Explore your marketing zen with our newsletter! Subscribe now.