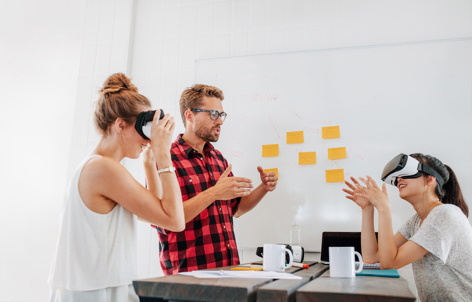 Future of Augmented Reality Mobile App
Choose Saffron Tech's augmented reality app development services and get a customized and unique AR App for your company.
Augmented reality is undoubtedly a revolutionary technology, and it doesn't need mobile devices to thrive. But when it comes to AR-based apps, then the innovative Augmented Reality app development has no other place to implement its true potential. The market is full of AR devices, but the bitter truth is that they are not mass-produced because of the lack of awareness among consumers and various security risks. This is why widening the scope of augmented reality through AR devices is proving to be a tough task.
All the statistics and user behavior are signaling that AR mobile apps will act as a springboard for augmented reality. The market for AR apps will reach around the US $3.9 billion by 2020, and with more users interacting with businesses through mobile, AR-based mobile apps will surely become the order of the day.
Augmented Reality App Development Process
We have designed a result-oriented AR app development process at Saffrontech. The process that we use to develop AR mobile apps for clients helps us to transform ideas into AR applications across different mobile platforms. With the experience of more than 11+ years in developing mobile apps, we have tailored our AR mobile app development process to meet our client's expectations in the best possible way.
Identification
Agonizing different ideas and taking feedback for making a blueprint of the AR app.
Development Of Prototype
Choose a simple and use case for developing a prototype. Working on visuals and technical aspects- Designing user interface, converting all the 3D objects, user stories, and test cases, and creating sprints.
Development
From pre-alpha to production, we follow a step-by-step process during the development phase.
Deployment
This stage includes deploying and provisioning.
AR Design & Strategy
We offer unmatched AR mobile app development services at an economical price. By choosing Saffron Tech as your AR mobile app development partner, you will not have to break the bank to get a world-class AR mobile app. Our team uses the following AR design and strategies to give the best AR mobile app a business can have
Animation and Rigging
SLAM tracking
User-friendly layout and design
Both marker-based and markerless tracking
3D modeling
Advanced level programming
Cross-platform support
Tools we Use to Build Augmented Reality Mobile Apps
We let our AR mobile app team research the newly launched AR tools so that we can use them for our clients. Our approach allows us to use the best AR tools in the market for building an innovative AR app. Following are some of the essential tools and platforms that we use for building AR mobile apps
Unity
Kudan
Vuforia
ARkit
ARcore
Xcode
Android Studios
Our AR Development Service Expertise
AR Apps For Android & IOS
We offer scalable and complete safe AR mobile apps for both iOS and Android. These apps are developed to offer a seamless experience to the user, along with interactive features.
AR Game App Development
We have expert AR game app developers who are well versed in popular AR game developing tools like Corona and Unity.
Location-Based AR
Our location-based AR apps are capable of using mobile device features like accelerometer, compass, and GPS. Track your customer's location wise and give a competitive gain competitive advantage.
Recognition Based App
With our marker-based augmented reality apps, your customer can recognize visual markers by using QR codes. The Wikitude library comes baked right into the software.
Projection-Based AR
Our developers are well-versed in designing projection-based AR apps that can project virtual images on real objects.
Web-Based Augmented Reality
We even offer web-based augmented reality apps so that you can harness the advantages of all the platforms through AR.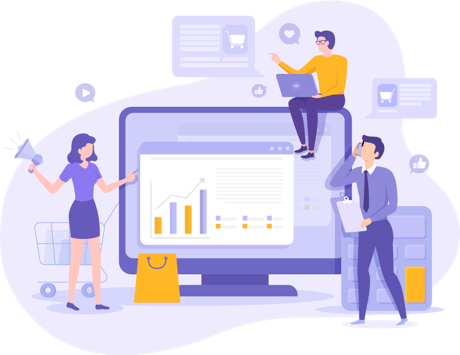 AR Support & Maintenance
Saffrontech offers support and maintenance services for different types of AR mobile apps. This will minimize your burden of working on your AR mobile app to keep it well-maintained and give you a competitive advantage as well. We will keep your AR mobile apps up-to-date and bug-free while ensuring top-notch app stability by understanding the specific requirement of your business.
Why Choose Us As Your Augmented Reality App Development Partner?
Saffron Tech is undoubtedly one of the most prestigious and admired AR development service providers. Our unique and innovative AR apps will convert your raw ideas into AR mobile apps in the best possible way. We come with long years of experience in the latest trends of augmented reality, which allows you to get desired results from your AR mobile app. We always cling to the industry standards to provide the best of both worlds; augmented reality and ease of use. At Saffron Tech, you will have access to a skilled, experienced, and dedicated team of AR app experts that work with the latest tools for delivering exceptional results.
Trust Saffron Tech to build with AR!