App Development
In the present mobile world, where a plethora of unique and engaging iOS apps are already charting on top of the iPhones directory, it can be challenging to develop something that stands out from the crowd. But Saffron Tech is here to solve this issue through its world-class iPhone app development service.
Our prolific experience in iPhone app development, accompanied by our long list of satisfied clients, makes us the most admired and popular iPhone app development company. Saffron Tech nurtures iPhone apps that are feature-rich and technically sound.
Our Development Approach and Methodology
We use a client-centric approach for building iPhone apps giving the clients the freedom to participate in every stage of the application development process. By keeping our clients in the loop, we can build business-friendly iPhone apps that fulfill all the app-related business needs. In addition to this, we also use a client-centric approach to make sure that the app is developed as per the business's needs. We are popular and take pride in the industry for prioritizing the needs and demands of our clients in every project. We have been extending our long list of satisfied customers by using the client-centric approach only.
We have used our decade of expertise in iPhone application development in building a smooth methodology.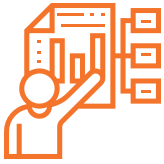 Analysis Of Client's Need
This is the first stage of our iPhone application development process, which kicks off by analyzing the demands of the business. By understanding our clients, we can clarify their unique requirements and offer the best solution.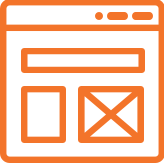 Wireframing
At this stage, we build a blueprint for developing an engaging and exceptional iPhone application so that everything happens as per plan. In addition to this, we also wireframe each screen and kick off the design of the iPhone app.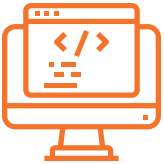 Development
This includes coding of the app and the development of the layout. Consistent communication is ensured throughout the process. We take feedback from our clients during this stage.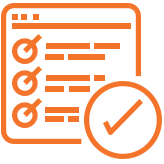 Testing
Our dedicated testing team, which consists of some of the best talents of the IT industry, tests the app for bugs, errors, and other security issues that might hamper the app's performance.
Deployment
This is the final stage of iPhone application development, and during this stage, we deploy the application on App stores, client's server and make it available for the users.
Our custom solutions for iPhone app development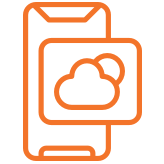 Native iPhone App Development
Choose Saffron Tech if you are looking forward to building a native iPhone app for your business. Discuss your native iPhone app development ideas with us and convert those ideas into a feature-rich native iPhone app that can be used on all iPhone devices.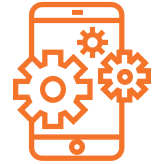 Custom iPhone App Development
We offer tailor-made iPhone app development services to fulfill the unique needs of our clients irrespective of their business's size, scalability, and industry. With our customized iPhone app development services, you will get an app aligned to your business's objectives.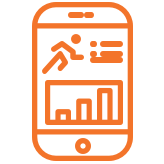 iPhone App UX/UI Design
Looking forward to building an iPhone app UI/UX design that is seamless and smooth? Hire our team of highly skilled and professional iPhone app developers. All the UX/UI designed by us are user-friendly and ensure profitability, making businesses choose us.
Hybrid iPhone App Development
Planning to build a hybrid iPhone app that can be used on different mobile OS like Android and Windows? Hire our team of hybrid app developers and get your hybrid iPhone app designed by us. Our hybrid iPhone apps run seamlessly on all the mobile platforms without any glitch.
Quality assurance and testing
One of the best things about choosing Saffron Tech as your iPhone App development partner is the assurance of supreme quality. We never compromise with the quality of the service that we offer to our clients, and our iPhone app building service is no exception to this approach. To ensure that our clients get their innovative ideas materialized into an iPhone app, we undergo a rigorous testing process before moving on with the deployment. During the testing, we lookout for bugs and errors in the application that might hamper the app's experience. Our dedicated testing teams regularly check for even the smallest error in the app to run smoothly and offer a feature-rich experience to the users.
Take benefit of our iPhone app development expertise​
If you are looking forward to building a robust, safe, engaging iPhone app, you should choose Saffron Tech without any second thoughts. We have been providing application development services for over a decade and have successfully and consistently delivered projects across different industries. Our extensive experience in the industry allows us to take a wide array of iPhone app development projects and deliver it as per our clients' expectations.
Working with an experienced application development company is necessary for getting the app built in the way you want and yield higher ROI, and this is why people trust us. Whether you are in the healthcare or the construction industry, our iPhone app development services will help you create an app that promises profit.
Why saffron tech for iPhone app development services?
Agile Development Methodology
One of the main reasons you should choose Saffron Tech for iPhone app development is our agile development methodology. It allows us to move step by step in building a suitable iPhone app for your company.
Expert IOS Developers
We have a pool of some of the best talents from the iOS app development industry. All our iPhone developers have more than decades of experience. Our developers have worked with different clients, and they know how to build an exceptional iPhone app for every industry.
Pocket-Friendly Price
Now you don't need to spend a fortune on building a world-class iPhone app that fits like a glove in your business needs. We have kept our prices for iPhone app development pocket-friendly without compromising the quality of the development process. This is why our list of satisfied clients consists of businesses of every size.
Best Tools And Technology
To ensure that our clients can thrive on our innovative approach, we use the best techniques and tools for developing iPhone applications.
Trust saffron tech to build applications with iPhone!